Skipper Clarke: That's history
Date published: 21 April 2017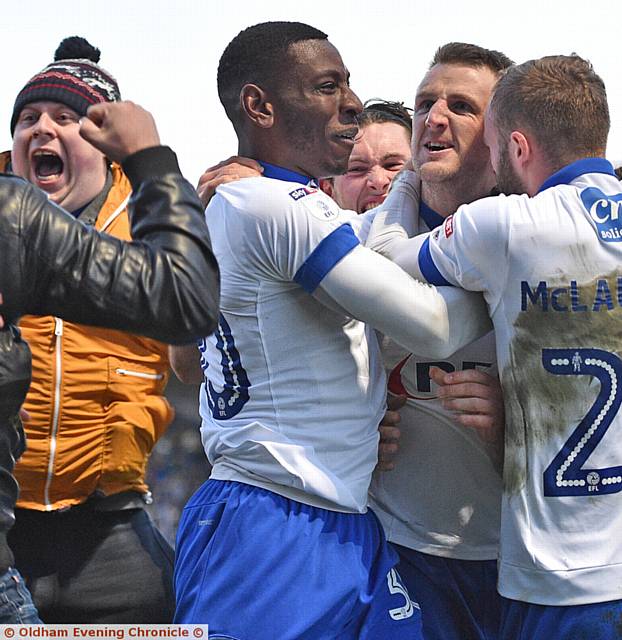 Peter Clarke goal celebration
PETER Clarke says his clash with Calvin Andrew is firmly in the past, as Athletic's robust skipper takes to the field aiming to enable planning to start for next season.

"It has gone. . . It is not an issue," was how centre-back Clarke responded when asked if there was any lingering bad feeling towards Andrew.

The tall Dale forward landed a sickening off-the-ball elbow on Clarke when the teams last met back in October, with the FA hitting the player with a 12-game ban that was reduced to nine on appeal after he was found guilty of violent conduct.

Rochdale come to SportsDirect.com Park looking to back up their 1-0 win at Spotland with another victory over their local rivals that would keep Keith Hill's men in the play-off hunt.

With Athletic's future in Sky Bet League One not yet assured, Clarke says it's the squad's goal not to rely on others to do the job of staying up for Athletic by failing in their own points quests.

'POINTS'

"Until it's mathematically impossible for us to end up in those bottom-four places, we are not safe," Clarke said.

"Between now and the end of the season, we need to make sure we get the points on the board that do that for us.

"There is still plenty to play for and we are well aware of that."

Clarke (35) has been an ever-present in the league this season since signing from Bury in the summer.

In total, the man who recently signed a two-year contract extension has played in the last 65 consecutive league games for his last two clubs going back across 15 months.

"I feel good and fit and the physiotherapy and sports science department and manager here have been fantastic," Clarke said.

"They have looked after me and made sure I have trained enough and rested enough to allow me to be fit and available for games and to hopefully give a good level of performance."

CAMPAIGN

With two games left in the campaign, Clarke credits boss John Sheridan with creating a relaxed atmosphere that has helped boost results.

"Since he has arrived, maintaining our status was one job and should we do that, the second phase can start to build and make progress and look forwards," he added. "We have still not quite done the first part.

"But he has given the lads that bit of freedom to play and that bit of confidence to express themselves."

Sheridan was today making final checks on hamstring injury pair Anthony Gerrard and Aaron Amadi-Holloway before deciding whether or not they will be fit enough to feature tomorrow.

"They are really close and we will wait and see," Sheridan said.

Athletic (probable, 3-5-2): Ripley; Wilson, Clarke, Stott; McLaughlin, Green, Fane, Banks, Taylor; Erwin, Obadeyi.

Subs (from): Kettings, Law, Mantack, Edmundson, Gerrard, Reckord, O'Neill, Flynn, Croft, Amadi-Holloway, Osei.

Tomorrow's Sky Bet League One fixtures - Bradford v AFC Wimbledon; Bury v Northampton; Chesterfield v Charlton; Coventry v Walsall; Gillingham v Fleetwood; Millwall v Oxford; MK Dons v Sheffield United; ATHLETIC v Rochdale; Peterborough v Bristol Rovers; Port Vale v Bolton; Shrewsbury v Southend; Swindon v Scunthorpe.