Diamond happy to lend a helping hand
Date published: 02 March 2012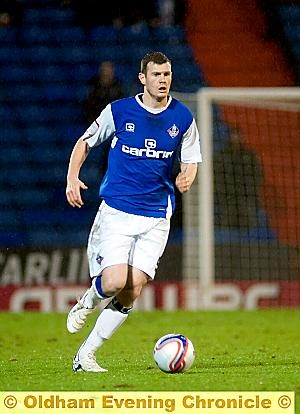 ZANDER DIAMOND: committed to helping Athletic's young players.
ZANDER Diamond believes a weight of responsibility lies on the shoulders of Athletic's more experienced players to guide the current crop of teens.

The faith the club has shown in its youth is exemplified by the captain's armband belonging to injured Dean Furman, who is only 23.

Recently, the enforced losses of Furman, midfield partner-in-crime James Wesolowski and left-back Paul Black led to call-ups for 18-year-old duo Carl Winchester and David Mellor.

Diamond (26) is now recovered from a hip problem but finds himself waiting for a chance to get back involved, such has been the good form of his replacement, promising centre-back James Tarkowski (19).

"We have not got a lot of older, experienced players here but there is myself, Shefki (Kuqi) and Filipe (Morais) who have played a lot of games," said Diamond, ahead of Athletic's short trip to face Sheffield United at Bramall Lane tomorrow.

"While Dean Furman is still young, he has as well.

"We will always help the younger players on and off the park and they can utilise that if they want to."

Defensively, in particular, Athletic were very green on Tuesday night.

Goalkeeper Alex Cisak is only 22, leaving Kieran Lee (23) the senior member of the back five, three months in front of Jean-Yves Mvoto.

"I went into Aberdeen at a young age," said Diamond, who made his debut for the Scottish Premier League club at 18. "You have to stand up and be counted.

"Kieran has played a lot of games, Jean has started to play in a lot of games and they have to help out.

"David (Mellor) has come in and done reasonably well and Tarky doesn't even look out of place, which is great credit to him.

"As a back four we have to be ruthless and make demands of what is in front of us."

While Tarkowski is not too shy to make loud demands during a game, Diamond reckons it important that the other younger members are also encouraged to speak up.

"When I first came here, there were a few quiet lads and that is probably just in their make-up," said the Scot.

"The older lads have to get it out of them. Once you cross that white line, you have to be ruthless to get what you demand from yourself as a footballer.

"They have been in the dressing room since I came here but because of the injuries are now getting starts.

"The responsibility is on the older players so that when they get their chance, they don't look out of place or feel embarrassed to shout.

"Nice guys finish last and we want everyone pulling together to gain success at this club."

The United game tomorrow is the first of nine in a gruelling calendar month.

Should the call come, Diamond knows how vital it is that he and the other men not currently in the starting line-up hit the ground running.

"It is up to us to be in right shape and not look out of place when the call does come," he said.

"Games are coming thick and fast and it is an important month, because it is the business end of the season. It is all about points at this stage."