One vision
Date published: 16 November 2012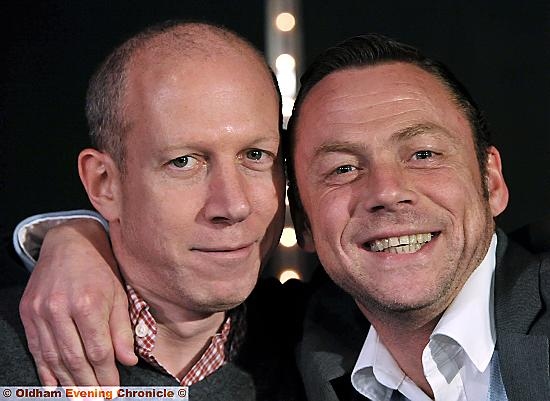 SIMON Corney and Paul Dickov
PAUL Dickov has laid to rest whispers he and chairman Simon Corney are at each other's throats.

Athletic's manager said the pair had a long meeting this week and remain close, in and away from football.

That is the case even after the team's poor home performance against Bury was slammed in the Chronicle last week by Corney, who also warned the club faces a relegation fight this season.

"We sat in (the board room) on Tuesday morning for a couple of hours," Dickov said at his weekly press briefing.

"He has openly admitted we are never going to see eye to eye on everything. He doesn't necessarily agree with what I say sometimes and vice-versa.

"But we get on well, in the football club and away from it."

A passion for the club lies behind everything Corney does, argued Dickov, who admitted he would prefer a different way of giving vent to frustration.

"I completely understand where he is coming from, though I don't always agree with how he does it," added the manager.

"He isn't just a guy who owns the club. He is a fan as well.

"When we do get beaten and there are poor performances, especially at home, it really hurts him. Like it hurts me.

"He wants to go out there and let people know that he is hurting and there is nothing wrong with that.

"Sometimes there is a right way and a wrong way to do that and we agree to disagree on it.

"People are coming up to me saying we have fallen out, but we haven't.

"If I was just a yes man to everything Simon said, I don't think that would be right either."

Dickov is similarly unwilling to simply acquiesce to defeat at Bournemouth tomorrow.

Athletic are without suspended duo James Wesolowski and Dean Furman, with Robbie Simpson and Youssouf Mchangama likely to replace the pair against Eddie Howe's in-form Cherries.

Jean-Yves Mvoto is available again after suspension and is likely to replace James Tarkowski.

for a full version of this story buy the Chronicle or read the eChron and iChron digital versions.