Winning ugly is still beautiful
Date published: 26 November 2012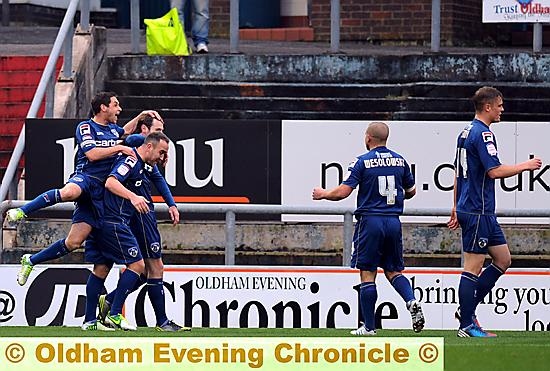 Grounds is mobbed by his jubilant team-mates as Athletic make it back-to-back victories in npower League One.
Athletic 1, Shrewsbury 0
Result is all that counts as Grounds revels in new role

THIS victory had a face that only a mother could love.

Other than the smartly worked goal, created by a sharp turn and cross by Matt Derbyshire and scored by full-back-turned-winger Jonathan Grounds, there was no concession to aesthetics from Athletic.

The term "winning ugly" is a horrible modern construction, but there is no stepping away from its applicability here.

Paul Dickov won't care about that. When the final whistle was blown, there were three more points to throw on the pile. Six points in five days. Things might be looking up.

Two testing games against Doncaster this week will help indicate whether a positive trend can really be plotted. Dickov had the press pack scratching their heads over his team selection when it was unveiled at 2.15pm. In Baxter's place Smith started for a third time this season, which was straightforward enough. More puzzling was the presence of three full-backs in the starting XI.

With Montano and Baxter banned, Grounds was surprisingly pushed into a midfield role ahead of Connor Brown.

As well as side-footing home the only goal of the game after 12 minutes, the ex-Middlesbrough man performed admirably on the left wing and justified his manager's out-of-the-box thinking.

In the penalty box, Smith missed with two good headed chances to break his Boundary Park duck.

All six of his goals for the club to date have come away from home; here, his failure to connect properly with successive crosses from Lee Croft shortly after half-time extended that barren run.

The other main talking point was the penalty claim from the visitors. Attwell, to his credit, was right on the spot to judge that the felled Marvin Morgan had not been not fouled.

The burly striker looked like he had drawn Byrne into a rash challenge, but even though Shrews manager Graham Turner felt it was a cast-iron spot-kick, the protests from the rest of the visiting players were slightly muted. As was the game, from start to finish.

But Athletic deserved to win. After a bright start in which shaven-headed James Wesolowski fired in a 25-yard shot Weale did well to cling on to, Derbyshire's sweet turn was followed by a low cross that was spilled into space by the Shrews goalkeeper. Grounds won the foot-race to deposit the ball home into an empty goal with his weaker right foot.

Matt Richards' effort from a free-kick was caught comfortably by Dean Bouzanis and though Shrewsbury gradually gained a foothold as the half drew to a close, that 18th-minute effort was as close as the visitors came before the break.

Croft was enjoying himself, putting in a stream of terrific crosses which stop-start Athletic should have done better attacking.

After Smith missed twice with his head, the big striker tried and swiped wide a snap-shot which fell quickly to him in the area. Say what you like about the 23 year old's finishing, but he at least manages a good rate of efforts in at goal.

Athletic saw the game out comfortably without much threat of scoring again.

It was definitely a lot less edgy a win than the one at Hartlepool. But they all count for three points.