Latics pay price for flashes of madness
Date published: 28 November 2012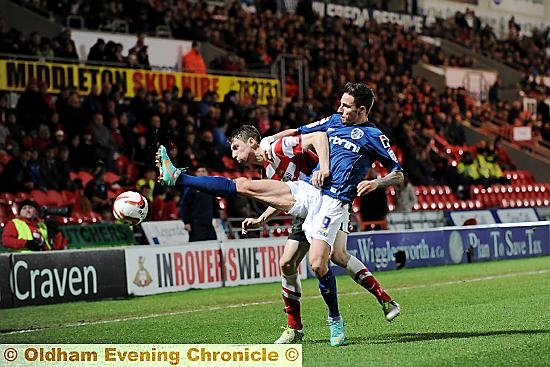 Photo: Pictures: ALAN HOWARTH
GET BACK: Athletic forward Matt Derbyshire attempts to nick the ball away from his Doncaster Rovers rival.
Doncaster 1, Athletic 0
WHEN all around are losing their heads, what's to stop a goalkeeper losing his?

Athletic were close to a very decent night's work here, but ended up with a defeat and another suspension headache for manager Paul Dickov — when Dean Bouzanis became the latest player to show disregard for common sense.

Until the hour mark there had been little to choose between the teams and the game was ambling to a bleak draw — one Dickov would have been glad of.

But in a division where small margins make big differences, Dean Saunders' side suddenly — briefly, but crucially — stepped up a gear.

After David Cotterill was controversially allowed to register a goal with a quickly-taken free-kick, the wheels came off discipline-wise.

Byrne was booked for dissent towards referee Gary Sutton and as a result misses the rematch with Doncaster on Saturday.

Late in the game, after Chris Brown had pushed wide a shot when handed a chance one-on-one to double Rovers' lead after beating the offside trap, Bouzanis made a decision which was akin to Mvoto's brain-melt moment at Crawley.

In added time, the red mist came down as the Australian goalkeeper — who had fought so hard and for so long to claim number one spot from Alex Cisak — pushed Hume to the floor.

Hume had previously issued invective towards Connor Brown after fouling him, before physically picking him up from the turf. Hume was also sent off, for two bookings in the space of a few seconds.

Despite the provocation, Bouzanis should have shown restraint. He will miss at least three games, but it might be a lot longer than that before he plays first-team football again.

The only change to the side which beat Shrewsbury 1-0 the restoring of Baxter in place of Smith, as a creative fulcrum.

Unfortunately for Athletic this was an off-night for the eight-goal man. With his only chance — the visitors' best of a difficult night - Baxter wove a path to goal but having found space on the edge of the box, shot weakly and straight at Rovers' keeper Gary Woods in the 42nd minute.

Defences were mainly on top, though, as they were after the interval.

Athletic failed to create anything of note going forward in the second half, despite the cavalry charge which occurred after conceding.

Interestingly, the final whistle signalled the first time Athletic have failed to score away from home in eight matches. More incisiveness will be needed for FA Cup progress to be made against the same opponents this weekend.