Simpson avoids surgery after taking doc's advice
Date published: 06 December 2012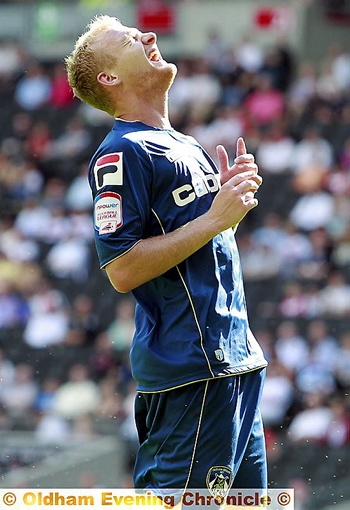 ROBBIE Simpson returned to the Athletic matchday squad in the FA Cup tie against Doncaster
ROBBIE Simpson has heeded a warning that has potentially saved him from three serious operations.

The Athletic forward returned to the substitutes' bench - though didn't play - for the Doncaster FA Cup win last week, having been rested over the three previous league games to let inflammation in his pelvis and groin settle down.

The recurring problem for Simpson has eased lately, thanks partly to following advice from a specialist.

The 27 year old has been told what could happen if the injury had been allowed to get worse.

"It feels a lot better, but it is still something it is important to keep an eye on and be cautious with," said Simpson, who may have to bide his time before getting back into the starting line-up, given Athletic's good form.

"When I saw the specialist, he told me he had seen someone else with a similar problem and that person ended up requiring two groin operations and hip surgery.

"He said he was pleased that I haven't had to go through that — but it shows how serious it can get if not managed properly."

Given the excellent attacking performance against Doncaster, Athletic manager Paul Dickov will keep the midfield and forward lines intact for the trip to Colchester on Saturday.

Dean Bouzanis serves the second match of his three-game suspension — Alex Cisak starts again in goal — and the only likely changes are in defence.

Cliff Byrne returns from his one-match suspension and will rejoin the squad which travels south tomorrow. Dickov could recall the more rugged Byrne to the heart of defence alongside Jean-Yves Mvoto and play Wabara at right-back.