Front line challenge
Date published: 13 December 2012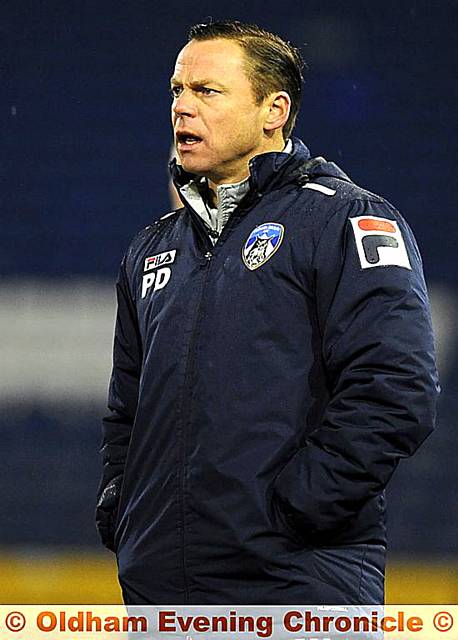 Paul Dickov - tough choices
Trio vying to fill Derbyshire role
ROBBIE Simpson has been backed to help fill the gap created after Matt Derbyshire plays his final game for Athletic this weekend.

Manager Paul Dickov will be forced to turn to the men already on his books when the loan player returns to Nottingham Forest after the maximum 93 days.

With the transfer window to bring a new striker not opening again until the New Year — when Dickov hopes he can get Derbyshire back — Athletic will turn to Matt Smith, Dan Taylor and Simpson.

All three played their part in the reserves victory at Burton on Tuesday — Simpson's first start in three and a half weeks due to injury.

"We worked ever so hard to get people in, but it didn't come off," said Dickov of his pre-deadline forward hunt three weeks ago. A deal to bring a young Premier League star on loan was foiled by an agent.

"We have Matt Smith and also Dan Taylor, and it was good to see Robbie Simpson in action again. When he is fully up to speed and firing on all cylinders, we know what an impact Robbie can have."

Simpson has scored only once this season after picking up nine goals for the club last term.

He has recently been used as cover in central midfield, but hopes to return as a potential strike partner for Jose Baxter.