We'll miss you, Matt
Date published: 17 December 2012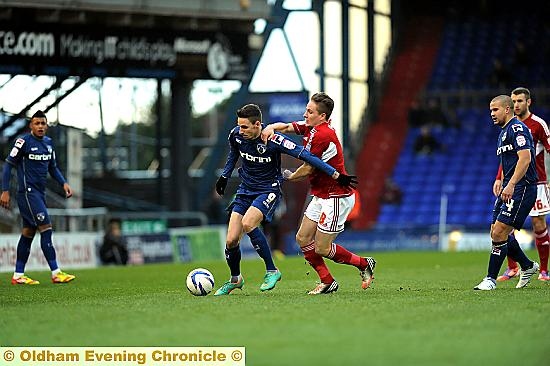 Photo: PICTURES: Alan Howarth
MATT Derbyshire - team will miss him.
PAUL Dickov has paid tribute to outgoing striker Matt Derbyshire, contrasting his work ethic with the team's as a whole as the recent good run came crashing to a halt against Swindon.

Derbyshire's loan spell at Boundary Park has expired and, after scoring six goals for Athletic, he is now back at Nottingham Forest.

Sheffield United have been linked with a permanent move for the 26 year old when the transfer

window reopens in the New Year — but if it isn't possible to bring him back, Dickov has other plans.

"If we can't keep Matt, we have other people in line," said Dickov, who is likely to turn to Robbie Simpson or Matt Smith up front for the game at Yeovil on Saturday.

"I am gutted for Matt. He worked his socks off, but I can't remember us getting a quality cross into the box. When we had the chance to cross it, we didn't want to put it in there.

"It isn't good enough. I will take getting beaten, but there is a proper way to do things and we didn't do them. I would love to come out and defend them and I do that a lot. But I would be making myself look stupid if I did that."

Athletic's players were summoned back in for training yesterday after a fifth home defeat of the npower League One season.

Cliff Byrne will be examined this week after suffering a back spasm early on in the Swindon defeat and a close eye will be kept on goalkeeper Alex Cisak, who needed seven stitches in his forehead after an accidental collision with Swindon's Andy Williams. The incident left Robbie Simpson in action as a makeshift goalkeeper, since Athletic had already made three allowed substitutions.

"Sometimes Lee (Croft) has a go at the end of training for a laugh, but there was nobody else," said Simpson, who didn't have a save to make but for one punched clearance of a free-kick.

"I was the most senior player on the pitch so it basically fell on me to make a call.

"Dean Furman and I had a chat, decided I should take responsibility and thankfully I didn't have a shot to save."

Goalkeeper Dean Bouzanis returns from his three-match ban for the Yeovil game.