Help is at hand for Dickov
Date published: 01 February 2013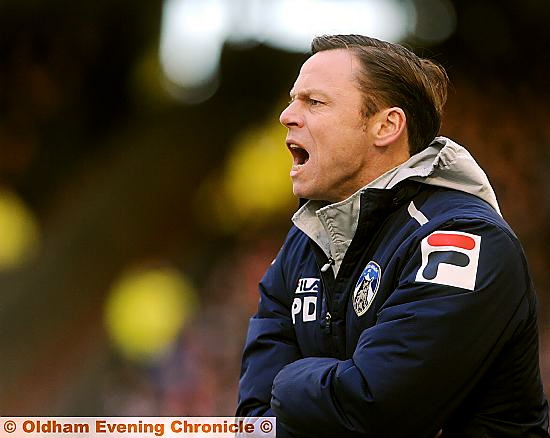 Paul Dickov: urging his team on
WHILE the wait for more help goes on, Athletic boss Paul Dickov believes he has brought in a pair of players who can spread valuable know-how behind closed doors.

Add together the ages of Paul Murray (36) and Chris Iwelumo (34) and you're only four years off

qualifying for a free TV licence.

But Athletic's manager hopes their experience can provide a guiding voice in the wait for the appointment of his new assistant manager.

Dickov says he doesn't need reminding of his responsibility to raise the club's lowly league standing.

"Nobody needs to tell me we need to pick up results in the league," Dickov added. "We go down there with a lot of confidence, but also knowing league form hasn't been great. It has to start picking up.

"I'm humble - but also confident in my own ability.

"The boys have gone on record saying how much they back me. I'd rather they kept their mouths shut and got a result."

Dickov will field a fresh face, Connor Brown, in place of Reece Wabara, for whom the Liverpool win was the end of his loan.

"Reece will be a big miss," Dickov said.

"First of all I'd like to thank him. There was always the chance he was going to go into the Championship. He could have gone earlier in the month; I don't think anyone can blame him.

"Connor will come in and do a good job for us. He is a little bit raw, but the kid has a really good attitude."