Hot seat not for me - Philliskirk
Date published: 22 February 2013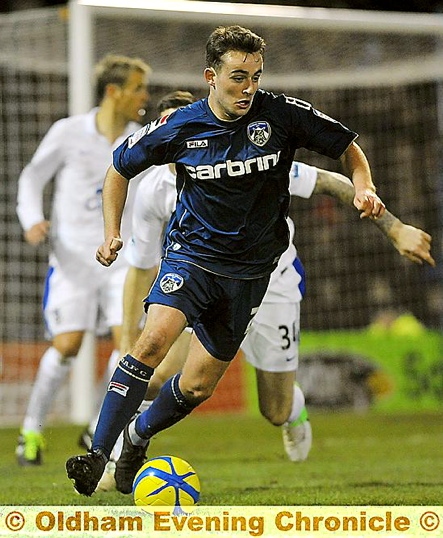 JOSE BAXTER . . . in line for recall after being handed a rest midweek
Athletic's caretaker manager Tony Philliskirk says he is unlikely to take the job full-time if the club offers it.

His decision to rest six players in midweek — criticised by some fans — turned out to be the right decision, since Latics won. But knowing what a furore it would have caused if they have lost is one reason he doesn't want the job full time.

"If we had been beaten at Stevenage I would have been slaughtered for making those changes," he said.

"I am relaxed. I knew by winning the other night that the board probably wouldn't bring anyone in for Saturday, and Simon Corney's comment is probably right: if it ain't broke, why fix it?

"The true test will come when we lose. We are doing our best; we can't do any more. At the moment people are saying nice things. If we had lost at Stevenage I'd have been getting caned. I don't think it's right - but maybe that's why I'm not cut out to be a manager."

Jose Baxter and Jordan Obita, among others, may come in from the start tomorrow. Baxter, who had not missed a start since a suspension in November, could replace Wesolowski in midfield.

Winger Obita had been suffering from a strained calf muscle and was rested on Tuesday.


NOBODY has dared talk in the Latics dressing room about the Everton replay — yet.
The rush for tickets for the FA Cup fifth-round rematch at Goodison Park on Tuesday night is already well under way.

While Tony Philliskirk hasn't banned talk of the contest, the players have themselves kept quiet in advance of the immediate challlenge at Portsmouth tomorrow.

"Stevenage, the players were all talking Saturday, Saturday, Saturday," said Philliskirk. "It would be foolish to think beyond that."