Beckenbauer, Pele, Eusebio and, er, Albert Jackson...
Date published: 23 July 2013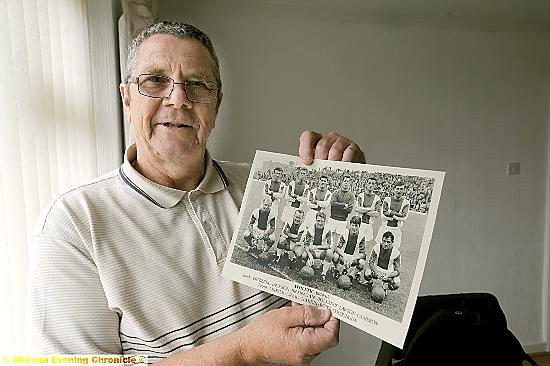 memories of made of this . . . Albert Jackson points to himself in an Athletic team line-up from the 1964-65 season. Jimmy Frizzell (back, left), Jackson, Ken Brannagan, Johnny Bollands, Allan Lawson, Alex Cameron; Bob Ledger (front, left), Bobby Craig, Jimmy Harris, Jim Bowie, Johnny Colquhoun.
FOR a self-proclaimed "also-ran" Albert Jackson didn't do badly for himself.

As he looked back over files packed with memorabilia, the 69 year old was generous with smiles and entertaining tales from a football career that remains surprisingly low-key — in these parts, at least.

At Boundary Park, those with sharp memories may recall the centre-back going in goal when Johnny Bollands injured himself five decades ago.

"I dived the wrong way, but luckily the ball hit my foot and went wide," Jackson said.

In Dallas, fans brought up on the soccer played by the Tornadoes in the mid-1970s will know him better as the hard-as-nails Limey centre-back who came up against New York Cosmos debutant Pele in the heyday of the glamorous North American Soccer League - and managed not to lose.

And in Wigan, Jackson's scoring prowess as a defender and his leadership skills — at every club except Athletic he was captain — supporters will remember him heading against the crossbar twice during the FA Challenge Trophy final defeat to Stafford at Wembley in 1973.

Wigan experienced the greater glory of a recent FA Cup win of course, but their regular home crowds are still not too far in excess of the five-figures who regularly attended non-league games when Jackson played under the charge of Les Rigby in the early 1970s. Such weekly attendance is a pipe dream for Athletic in League One these days.

After leaving Manchester United as a schoolboy, former North Manchester Grammar pupil Jackson was snapped up as a 19 year old by Jack Rowley in 1962 and went on to mainly become a reserve in every possible position.

His three years at Athletic ended in 1966 and Jackson hasn't been back to Boundary Park, even as a spectator, since.

He enjoyed six seasons at Bangor City followed by Wigan, where he combined playing with work as a quality control manager at Stotts in Royton.

A stroke of good luck took him to America and the Dallas Tornados, and the two summer spells in the States were played either side of his commitments with Wigan.

Jackson spent four seasons at Mossley and at 42 was fit enough to turn out twice in a day.

"I would get a lump of meat for playing in the morning, then I would go and play for Droylsden in the afternoon," he recalls with a smile.

He also turned his arm over in local league cricket, modelling himself on notoriously accurate former Lancashire and England off-spinner Roy Tattersall. "I waited for batsman to get themselves out," he said of his tight bowling style.

They don't make them like Albert Jackson any more. He admits he wouldn't be able to get away with some of his rough-arm tactics these days. But equally, he is unimpressed with the daintier side of the modern-day game.

"It is more skilful," he said. "The players are a lot fitter. And they are a load of babies."



When Dallas Tornadoes coach Ron Newman asked Albert Jackson to play for him, Albert didn't need to be asked twice: "I said yes straight away," he recalls
The pay packet was generous for 1974: a rent-free apartment in Richardson, Texas, a car and around $1,500 a month.

It was the chance of a lifetime for a Manchester United reject and non-league centre-back with Wigan, then aged 30, to rub shoulders with the great Pele.

Newman, had originally come to England to watch Dennis Tueart of Manchester City. He was injured so Les Rigby, Wigan's manager, suggested he come to watch them instead.

Jackson scored twice. Newman came back to the next game and Jackson headed two more in. That was that.

Despite being signed as a striker as a result of his deadly accuracy in front of the opposition goal, he was soon back trying to halt others from netting across two five-month spells in the North American Soccer League in 1974 and 1975.

"Pele, Franz Beckenbauer, Eusebio, Rodney Marsh, George Best . . . These were the sorts of players going out to America," he said. "There were 33,000 there to watch us when Pele played for the New York Cosmos against us, which was a heck of a lot - considering they had to print the rules in the programme."