Latics put a song in their heart... and five in the net
Date published: 27 January 2014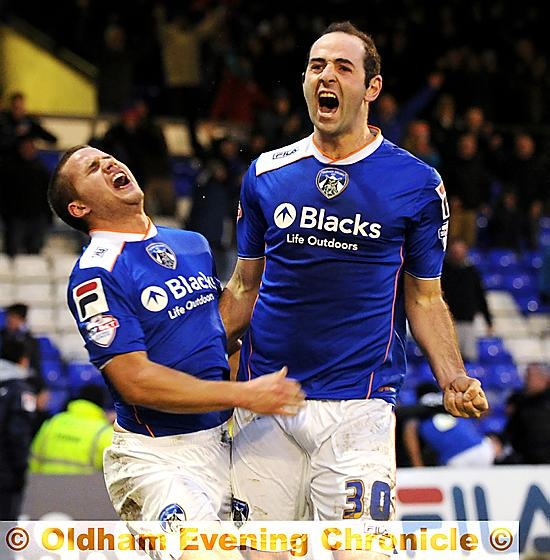 Photo: PICTURE: ALAN HOWARTH
PLENTY TO SHOUT ABOUT: Gary Harkins (right) and James Wesolowski celebrate Athletic's match-winning goal.
GOAL hero Gary Harkins was the calmest man inside Boundary Park as he ran up to hit the dramatic penalty kick which brought Athletic level during their historic 5-4 win over Peterborough.

Three players put themselves forward to line up the vital spot-kick in the 89th minute, before instructions from the bench saw the ball handed to star performer Harkins.

The on-loan St Mirren playmaker duly sent goalkeeper Joe Day the wrong way for his second goal of the afternoon, setting up an amazing finish which was topped off by Genseric Kusunga's added-time winner.

"It was good to get off the mark. With the penalty I expect to score anyway, but it was good to get us back on even terms and even better to go and get the win," Harkins told the Chronicle.

"I didn't know I was taking it until the last minute. But I don't mind hitting them."

Harkins, who was outstanding on the left flank as Athletic tore into Peterborough to turn around a 3-0 half-time deficit, admitted that Athletic's primary goal, as fierce words were exchanged at the interval, was simply to go out and 'win' the second half.

Harkins scored three minutes into the second half and the rest is history.

"I have come back from 2-0 down before — but never from 3-0 and then 4-2," he added.

"The atmosphere (in the dressing room) was unbelievable. You don't get many feelings like that in the game. It felt horrible at half-time. But that kind of high outweighs any low.

The trick now for Athletic, up to 16th in the league, is to back up the unlikely win with another tomorrow against Wolves at Boundary Park (7.45pm kick-off).