Grounds for divorce
Date published: 02 May 2014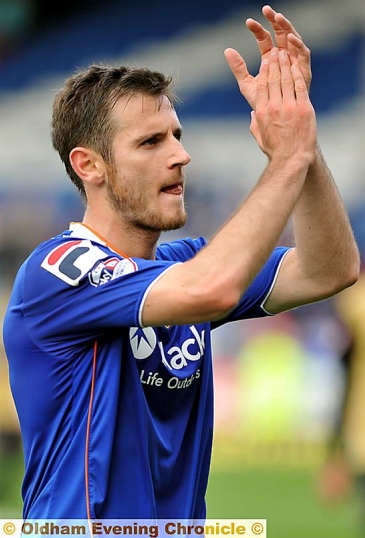 EXIT: Jonathan Grounds is believed to be a target for Birmingham City, who are battling to avoid relegation from the Sky Bet Championship.
JONATHAN Grounds is expected to leave Athletic this summer, Lee Johnson has confirmed — but the manager hopes to retain James Wesolowski.

The out-of-contract duo were the first players to whom Johnson made verbal offers once safety in Sky Bet League One was assured.

Left-sided defender Grounds — who joined the Boundary Park club from Middlesbrough two years ago — is understood to have attracted interest from Birmingham City.

"I think we will probably lose Grounds," admitted Johnson, who is determined to end the season on a high tomorrow when facing relegation-threatened Notts County.

"Given that he is left-footed and 6ft 2in, that he can play at left-back or centre-back, and that he has had a very consistent year playing the amount of games he has, I would expect him to go to a higher club. It is not for sure. We would like to keep him, but probably won't be able to.

"James Wesolowski is a little bit different. He brings real desire and a winning mentality - it's hard to buy that. A lot of players don't have those qualities built in. Weso is exceptional in that.

"This season he has been superb. We have improved him and he has improved himself, technically. He has had his best goal scoring year, too.

"He is certainly one we want to keep. We have certainly made him an offer verbally, and I have been in touch with his agent for a while. Weso is certainly keen to stay and we are keen to keep him."

Both Athletic and Notts County head into tomorrow's final game of the campiagn at Boundary Park in good form.

Johnson's men are aiming to finish the campaign unbeaten in 10 fixtures, while a point for Shaun Derry's side — who have won six of their last eight — would see them safe for another season.

Regardless of which, Johnson wants his men to be ruthless.