Twitter ye not!
Date published: 22 July 2014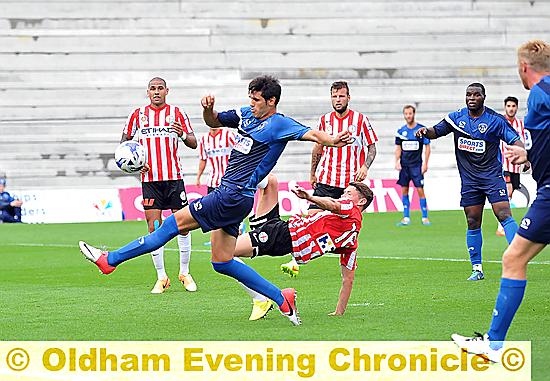 Miguel Llara scoring the equaliser against Melbourne
ATHLETIC'S players will get back to nature this week, as the squad heads to Kendal.

Mobile phone signals are likely to be weak in the rural retreat, with manager Lee Johnson devising a programme which combines training sessions with various group activities — and no Twitter activity.

Much of what is planned for the break, which takes place between tonight's game at Morecambe and Saturday's friendly at Barrow, is highly confidential.

But Johnson, who left the booking arrangements to Cumbria native and first team coach Paul Murray, promised "a few surprises: some good, some bad and some ugly".

"It is very much a 'back to basics' affair," Johnson said.

"Hopefully, the players will find themselves in touch with Mother Earth! I'm not sure how they will cope without a mobile phone signal — but we will find out.

"The idea is that it will help bring us together as a group. We will be training and there will be a few activities thrown in as well.

"We will also be setting our goals for the season and thrashing out the way forward, so that everyone understands what we are about."

Miguel Llera is among the group heading north.

Athletic have offered the former Sheffield Wednesday defender a permanent deal after impressing in the warm-up games so far.

Llera (34) scored the equaliser in last Saturday's 1-1 draw with Melbourne City.

Meanwhile, among the issues that will be thrashed out in the Lake District is that of bonuses for the 2014-15 campaign, which Johnson suggested could come in the way of time off rather than monetary prizes.

Goalkeeper Paul Rachubka, one of the most experienced members of the squad, believes the stopover will prove to be beneficial.

"It will be different, from what we have been told," Rachubka said. "Some of what we will be doing is top secret, but it will definitely bring the lads together.

"It should be a lot of fun. The football is there too, but it is about coming together as a squad and showing our spirit."

Last season, Athletic went to an Army camp at Altcar as part of the pre-season preparations.

Danny Philliskirk (thigh) and Joseph Mills (back) are expected to be back in action at Morecambe tonight, with Rhys Turner (hip) also a possibility, but new signing Amari Morgan-Smith (knee) is still out injured.