Fit and flying
Date published: 24 July 2014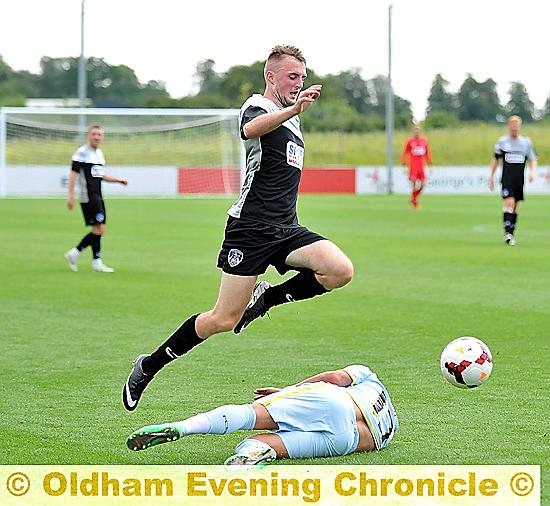 Carl Winchester
CARL Winchester is grasping his fresh chance to impress with both hands.

The 21-year-old from Belfast was in danger of ending up on the scrapheap at SportsDirect.com Park at the end of last season, having made only 13 appearances. Seven of those were in the starting XI.

But despite only featuring five times in the league since the turn of the year, manager Lee Johnson gave Winchester a new deal with the intention of sending him out on loan in 2014-15 to get regular game-time.

As of yet, there have been no enquiries from clubs over the services of the talented but inconsistent midfielder, whose career has stalled since he became a full Northern Ireland international three summers ago.

Now, after looking particularly at home in a roving role in the midweek friendly at Morecambe — given the protection of two holding midfielders Liam Kelly and David Mellor in order to probe the opposition defence — Winchester's impressive form in friendlies means his chances of playing a part for Athletic come the opening game of the season at Colchester next month have improved.

"Carl has come back looking well," said Johnson.

"At the moment there has been no interest in taking him on loan. But he is one of those players who, when he is 'on it', is excellent.

"He has just got to be 'on it' a lot more than he has been last year.

"He has certainly come back with the bit between his teeth in pre-season and everyone gets a clean slate.

"It doesn't matter whether they are 18, 28 or 38 years old. I will pick the best XI as I see it."

Johnson also indicated he will look to send out young goalkeeper Joe Coleman, who had a tough evening at Morecambe, on loan in order to gain experience of first-team football.

"He is such a good goalkeeper apart from, at the moment, his decision-making," Johnson added. "That generally happens with young goalkeepers.

"When he gets that, he will be a top 'keeper. How do we get that? Loan him out or keep him training with the first team?

"In an ideal world he is playing games, so we might have to look at loaning him out and bringing in a new number two or a competing number one with Paul Rachubka."

As for players coming into the club, Johnson said another permanent addition is the target before Athletic travel to Colchester for the opening game of the season on Saturday, August 9.

"I am still looking for one more really, if I can," he said. "Again, it is not going to be easy.

"But I am happy with the squad, I really am, and I think we are stronger at this time than we were last year — certainly depth-wise.

"That first XI has really got to present itself to me. The players have to make sure individually they come to the fore over the next three games."

Athletic have pre-season friendlies at Barrow on Saturday and then at home to Huddersfield on Saturday, August 2, still to play.

Johnson is also exploring the option of another game between those two, possibly taking place behind closed doors.

DAVID Worrall, who made 18 appearances for Athletic while on loan from Rotherham last season, has signed permanently for Sky Bet League Two club Southend following his release from his Millers contract.

Worrall (24), who has also played for Bury and West Brom, has joined the Shrimpers on a two-year contract.