Coach taking no chances
Date published: 04 March 2011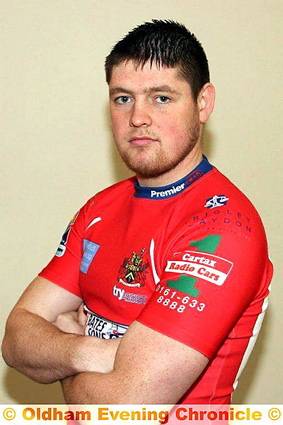 Full-back Ben Heaton
OLDHAM RL coach Tony Benson will leave nothing to chance when Roughyeds play amateurs Hunslet Warriors at the Whitebank Stadium on Sunday (3pm) in the third round of the Carnegie Challenge Cup.

He will pick his strongest side and prepare it just as thoroughly as he would for a top-of-the-table promotion clash in Co-operative Championship One.

Roughyeds have successfully negotiated all 14 potential banana-skin cup ties against amateur teams since the new club was formed for the 1998 season.

Benson (pictured), naturally, does not want to be remembered as the first coach of an Oldham team to be dumped out of the Challenge Cup after an embarrassing defeat by amateur opposition.

"Warriors are a very good side," he said. "They deserve every possible respect. They will get that respect from Oldham. I will name what I consider to be the strongest side I can put out."

He has to reshape his threequarters as regular wingers John Gillam (broken nose and eye socket) and Lucas Onyango (suspension) are ruled out.

Marcus St Hilaire, in-form Mark Brocklehurst, Jack Bradbury, Alistair Williams and Matthew Fogarty will all be vying for a centre spot or a place on the wing.

It was perhaps significant that first-team fringe players Williams and Fogarty did not play for the reserves in their 28-22 defeat at Keighley last night.

Benson could also consider pulling Ben Wood out of the forwards to play at centre, but that seems unlikely given that another back-row man, Andy Isherwood, has been given the week off to spend time with his wife, who is in hospital.

Full-back Ben Heaton, badly shaken up in a tackle last Sunday, has been cleared to play and there was more good news from last night's reserve match when prop Liam Gilchrist tested a hamstring injury and came through unscathed.

Dave Ellison, another prop, will also be in the running for a return to the side after missing the Whitehaven game last weekend because of work commitments.

"He was in the squad all week, but then he was called away to London at the last minute," explained Benson. "Hopefully, that won't happen again this week."

Squad: Heaton, St Hilaire, Brocklehurst, Bradbury, Williams, Fogarty, N Roden, Ashe, Diveney, Boults, Gilchrist, Clough, M Roden, Whitmore, Ellison, Sutton, Wood, Noone, Clarke, Bentley, Wood-Hulme.




THE Roughyeds' Supporters' Association (ORSA) meets at the Whitebank Stadium tonight (8pm). Only members can vote, but fans can join at the meeting.