Roden calms fears of major upset
Date published: 07 March 2011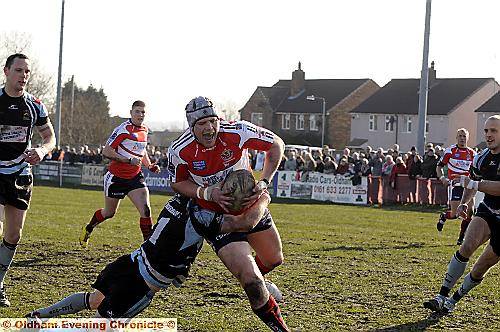 ROUGHYEDS forward Chris Clarke on his way to scoring the first try of the tie.
Oldham 28, Hunslet W 16
NEIL Roden's 99th Oldham try in 255 cup and league games edged the rattled Roughyeds into round four of the Carnegie Challenge Cup at the Whitebank Stadium.

That it finally put some daylight between the teams with only 10 minutes left underlined how close the amateurs came to pulling off an upset.

They matched Oldham in every aspect and scored two cracking tries by classy centre Mark Cunningham to go from 16-4 down to 16-16 midway through the second half.

Cunningham and loose-forward Caldon Bravo were two of the best players on view — shining lights in a Warriors team which looked too good for National Conference League Division Two and compared favourably with many of the sides Oldham have played in Championship One over the last four seasons.

Former Oldham player Darren Robinson, who was expected to play a key role for Warriors, was not in the side because of illness.

They still fielded a team overflowing with experience and rugby nous, and whoever issued instructions to kick deep on tackle one straight from the scrum must have done his homework.

Like all full-backs these days, Oldham's Ben Heaton had moved forward to take up position in the defensive line on the Warriors' scrum feed.

Whether Roughyeds would have had more cover if regular wingers Lucas Onyango and John Gillam had been in the side is open to debate.

Warriors twice booted downfield for their speed merchants to give chase and Cunningham got there first both times to score two converted tries which took the wind out of Oldham's sails.

Roughyeds were edgy, nervous and always likely to force the pass. They constantly surrendered possession, just as they did against Whitehaven a week earlier. Good passes were also put to ground.

Just as well, then, that in captain Neil Roden, Roughyeds had a man who kept his head when all around were losing theirs and who had the composure to steer his side to victory after setting up the opening try for Chris Clarke in the third minute.

Five minutes later came the first hint that Warriors had the speed to trouble Oldham out wide. Diveney's long pass was intercepted by winger Arron Niles, who raced up the touchline to score with nobody getting near him.

Roughyeds soaked up lots of pressure before going out to 16-4 with tries by wingers Matthew Fogarty and Mark Brocklehurst.

Fogarty capitalised on Roden's high kick to the posts, while Brocklehurst crossed in the corner on the end of Oldham's best bit of rugby in the game.

Cue for Cunningham's double — and a further requirement for Roden to again step up to the mark.

Diveney edged Roughyeds back in front with a penalty goal before Roden settled things by linking with Paul Noone to score in the left-hand corner.

The angled conversion gave the home side an eight-point cushion and victory was assured when Roden and Clarke paved the way for Ben Wood to cross for the fifth Oldham try near the end.