St Hilaire is latest Oldham casualty
Date published: 09 March 2011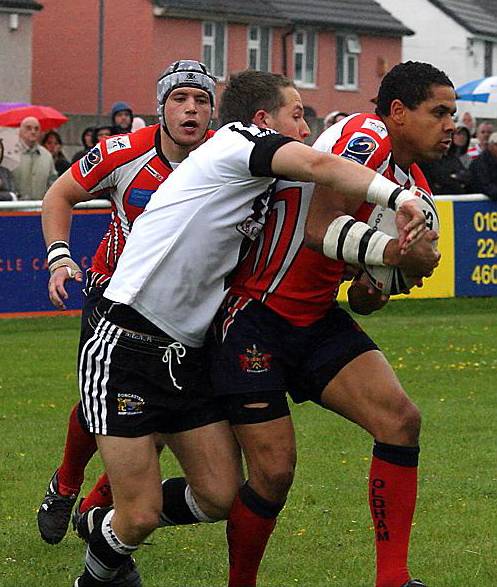 MARCUS St Hilaire (on the ball) faces an injury-lay off.
OLDHAM RL Club's depleted threequarters lost another key man today when Marcus St Hilaire was ruled out of Sunday's first Championship One game against Gateshead Thunder at the Whitebank Stadium.

The 34-year-old joint vice-captain is struggling with a recurrence of hamstring trouble and has been told he has no chance of playing at weekend.

It means Roughyeds will begin their fifth attempt to climb out of the professional game's third tier without three of their most experienced outside backs — suspended right-wing Lucas Onyango, right centre St Hilaire and left-wing John Gillam, who has a fractured eye socket.

Onyango's two-game ban will be up after the Gateshead match, but it isn't known yet how long Gillam and St Hilaire are likely to be sidelined.

Hooker Scott Mansfield, back with Roughyeds after a month on loan to Rochdale Hornets, will be in John Hough's reserve-team squad at York tomorrow night.

"St Hilaire's setback means we are now running with a squad of 21, 10 of whom are players who are new to the squad this season," said coach Tony Benson.

The 21 include forwards Tom Wood-Hulme (shoulder) and Ben Wood (ankle), who were hurt against Hunslet Warriors last weekend, but who are expected to be fit by Sunday.