Roden eyes century milestone
Date published: 10 March 2011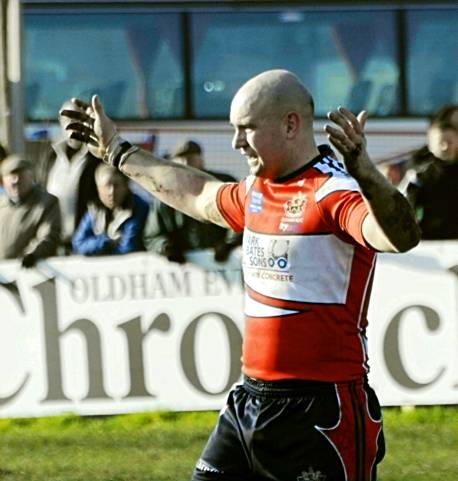 TON-UP TARGET . . . Roughyeds captain Neil Roden is one away from scoring 100 tries for the new club.
NEIL Roden hopes to score his 100th try for Oldham RL Club in Sunday's Championship One opener against Gateshead Thunder at the Whitebank Stadium.

He's been in the nervous 90s since May, 2009, but his Challenge Cup match-winner against Hunslet Warriors last week put him on 99 and now his ton-up can't come quickly enough for the 30-year-old Roughyeds captain.

"I just want to get it scored, and get it out of the way," said Neil. "I don't score many these days so it's been a long time coming and it would be nice to get it over and done with on the first day of a long league campaign."

Roden has played more games (255) and scored more tries (99) than anybody else for the 'new' Oldham club, launched in 1997.

In the entire post-war period only seven players — Alan Davies (174), Mike Elliott (153), Johnny Noon (126), Dick Cracknell (119), Phil Larder (111), Terry O'Grady (105) and Frank Pitchford (105) — have topped Roden's try haul.

He scored 65 tries in his first four-and-a-half seasons at Oldham. He was then away for two years before coming back for the start of the 2007 campaign. In the last four seasons he has added 34 more.

"I'm not as quick as I used to be," added the side's stand-off and playmaker-in-chief.

"But I still love the game and I'll play as long as somebody thinks I can do a job.

"I've shared loads of highs and lows with the Roughyeds over the last 10 years and to captain them to promotion this year would be fantastic.

"We've been struggling a bit lately, but I'm sure we'll turn things round. Easier said than done, I know, but if we cut out all the silly mistakes we've been making I'm sure everything will come right.

"We've got a long league season ahead of us in what will be a hugely competitive division. As ever, we'll be aiming high in the hope that we can improve on last year when we finished second."

o Roughyeds reserves open up their league campaign at York tonight (8pm kick-off).