Free-scoring Roughyeds get off to a flying start
Date published: 14 March 2011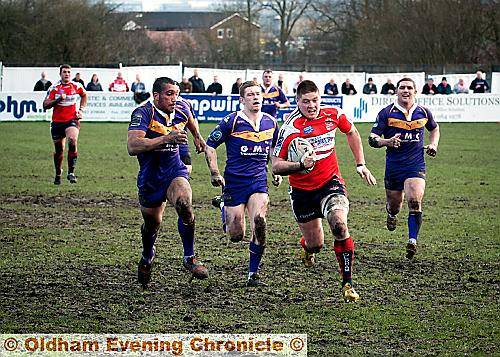 Photo: Gareth Lowe
FULL-BACK Ben Heaton stretches his legs to get away from Gateshead defenders.
Oldham 66, Gateshead 12
PLAYING an expansive, exciting brand of rugby, Oldham scored 12 tries at the Whitebank Stadium yesterday to get their league campaign off to a rousing start.

Rugby purists who prefer to see tries through hands to tries from kicks were treated to a feast of attacking football in which the Roughyeds' wide boys cashed in spectacularly.

Only two of the 12 were engineered up the middle. Nine of the other 10 were produced by enterprising wing-to-wing handling moves which set up five out wide on the right and another four out wide on the left.

Left-wing Mark Brocklehurst led the way with a four-try haul — three beauties plus another resulting from Mick Diveney's high kick to the corner.

Jack Bradbury, his centre, saw to it that 'Brocky' received good ball but he also slipped through himself on one occasion to keep Thunder's defence guessing.

Out on the other side of the field, wide-running second-row man Andy Isherwood smashed his way to a try hat-trick, while teenager Matthew Fogarty, on the wing, added two more to further enhance his ever-growing reputation.

His first came on the end of a beautifully-timed pass from centre Ben Wood. His second, on Diveney's wide, cut-out pass, took a lot more scoring and clearly demonstrated that the youngster is growing in confidence and stature with every opportunity that comes his way.

As ever, the forwards had to establish authority up the middle before the halves could bring the wide runners into play and the engine room was well served by Jason Boults, Liam Gilchrist, Chris Clarke, Luke Sutton and Tom Wood-Hulme.

Valu Bentley scored twice, first thanks to Neil Roden, then to Diveney, while Gilchrist produced his best display of the season so far at prop to stake a claim for further recognition.

Seven of the 17 Oldham players were local boys, including six out of 13 in the starting line-up, which had an all-local three-quarter line of Fogarty, Wood, Bradbury and Brocklehurst — believed to be a 'first' in the entire history of Oldham Rugby.

Scrum-half Diveney, loose-forward Clarke and replacement hooker Danny Whitmore made up the contingent of players reared in the Oldham area.

All played hugely significant roles in this victory, but none more so than Brocklehurst, Whitmore and Diveney, who played well at scrum-half as well as converting nine tries, some of them off the touchline.

Whitmore came off the bench midway through the first half and for the next hour he terrorised Thunder by constantly jumping out of dummy half and finding space to exploit up the middle.

The game was up as a contest by midway through the first half, at which point Roughyeds led 18-0 with tries by Brocklehurst, Isherwood and Bentley.

By half-time it was 30-0, Fogarty and Brocklehurst having added further tries, and there were seven more to come in the second half from Bentley, Bradbury, Fogarty, Isherwood (two) and Brocklehurst (two).

Roughyeds will be given far sterner examinations in their next two games against Workington away and Swinton Lions at Whitebank, but they will travel to Cumbria buoyed by this first-day win, albeit over a side that will toil to make the play-offs.