Roughyeds chairman welcomes RFL call
Date published: 05 March 2014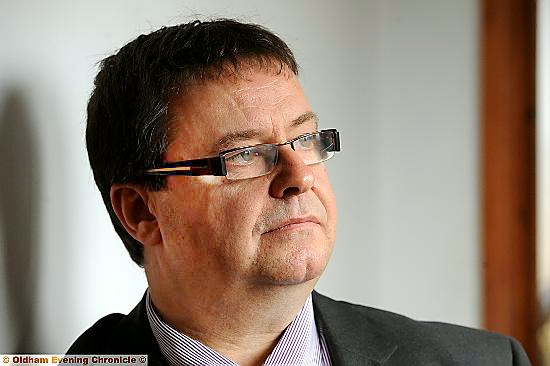 Oldham Rugby League Club Chairman Chris Hamilton.
OLDHAM chief Chris Hamilton has described as "common sense" the RFL decision to award Roughyeds the points from their abandoned game in South Wales.

Scott Naylor's shivering troops were 18-4 ahead against Scorpions at Maesteg when referee Adam Gill called a halt eight minutes before time due to the ferocity of the wind, rain and sleet.

"It was a common-sense decision which we obviously welcome," said the Oldham chairman. "It was the right decision to abandon the game and the RFL has acted quickly." Scorpions have accepted the RFL ruling.

Wales Rugby League operations officer Chris Thair has revealed just how bad conditions were for the players. Oldham's Dale Bloomfield, Danny Whitmore, Brett Robinson and Kenny Hughes all needed help after the game.

Thair said: "Adrenaline coupled with extreme coldness took many players to the brink of exhaustion and it was apparent in the second half that a lot of them were suffering from symptoms associated with hypothermia.

"Both teams had players on the floor of the showers and unable to move for 20 minutes or so after the game. A couple had blue lips and blue fingers and a lot of players reported a lack of feeling in arms, hands and legs."

Everyone has since made a full recovery.

Frozen or not, Oldham's Jason Boults and Sam Gee and Scorpions' loose-forward Chris Vitalini made merit places in the Kingstone Press Championship One team of the week.

Boults, the oldest player in the Oldham side at 30, had a great game at prop, while Gee performed splendidly out of position at centre.