Naylor: Langers is a dream to coach
Date published: 14 May 2014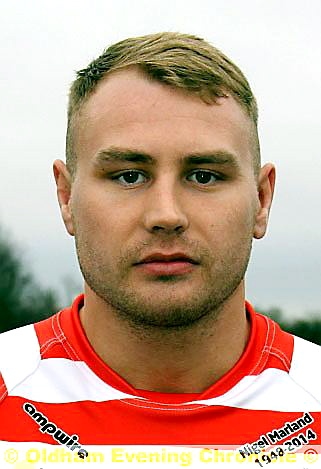 Danny Langtree
SCOTT Naylor is looking for big things from his in-form second-rowers Danny Langtree and Josh Crowley in Sunday's top-three clash with York City Knights at Whitebank.

Lauding Langtree on the day he was named Championship One player of the month, Oldham's head coach said the rating was no more than he deserved.

"He's a quality player and a quality person," said Naylor, of the 23-year-old former St Helens academy forward.

"It's good that Danny should receive a divisional 'best player' award, because it shows people outside Oldham are taking note. "I'm delighted for him."

With Langtree wide on the right and 22-year-old Crowley wide on the left, Naylor knows he has a twin second-row strike force as good and consistent as any in the division.

Crowley (22), once of Widnes Vikings, has played in every game since he arrived at Whitebank for the start of last season — 32 in total.

Paddy Mooney is out of the reckoning for the York game with a back injury, as is long-standing injury victim Liam Thompson.

Adam Files is no more than a possible, but Naylor will still have selection headaches and none more so than at half-back, where on-loan Steve Roper is itching to get his first game.