Local lad out to scupper Oldham
Date published: 23 May 2014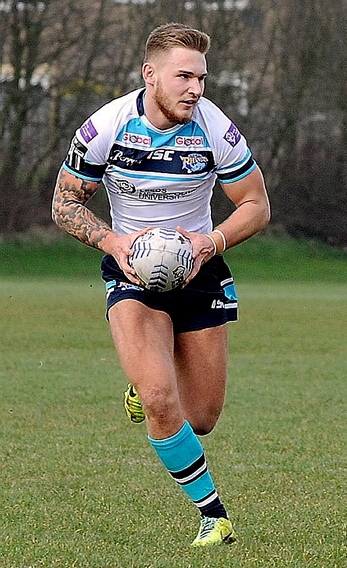 FULL OF PROMISE . . . new Gloucester signing Ben White. Picture by PAUL ENGLISH.
A FORMER Saddleworth Rangers whizz-kid may make his senior rugby debut for Gloucester All Golds against Oldham on Sunday.

Highly-rated Leeds Rhinos half-back Ben White (19), who studied for his 'A' levels at Oldham Sixth-Form College, has joined Steve McCormack's All Golds on loan.

His capture follows that of Hunslet's 19-year-old hooker or half-back Casey Canterbury, who scored two tries on debut in Gloucester's win at London Skolars last Sunday.

White moves south to gain experience at Championship One level, after scoring eight tries in 10 appearances for Rhinos under-19s this season.

Having represented England Youth as a 16-year-old, he has been a mainstay of the Super League club's development teams of the past three years.

Gloucester will be far more streetwise than last year – their first in semi-pro rugby – when Oldham won 36-0 in Cheltenham but were held to a 24-24 draw at Whitebank.

Oldham-born full-back Phil Cowburn, once a Roughyeds mascot, had an excellent game at Whitebank and he has continued the good work this year.

Even before McCormack's arrival to succeed Brad Hepi as coach, the All Golds had underlined their desire to move up in the world by recruiting several northern-based players.

To date, Gloucester have won three of their seven games but have picked up two bonus points to post a similar record to those of Hemel Stags, Oxford, Gateshead and London.

Given that York are at home to Hunslet, third-placed Roughyeds can push onwards and upwards while still having a game in hand.