Backs to the fore
Date published: 02 June 2014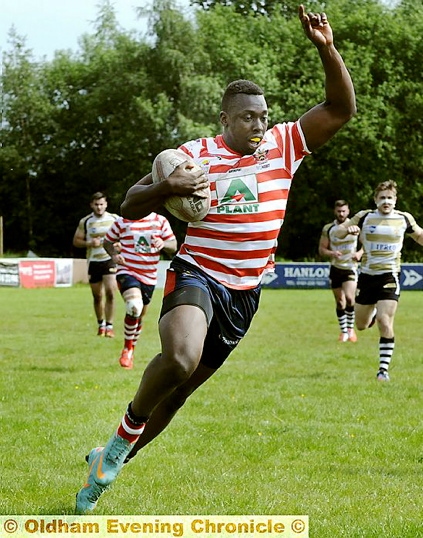 MO'S THE MAN: Oldham winger Mo Agoro crosses the line for another try
OLDHAM 46, SKOLARS 16

OLDHAM'S backs have largely been overshadowed by the forwards in the season-and-a-half of Scott Naylor's tutelage — but there are signs that is about to change.

At the very least the men on the fringes look like coming more into their own, as hinted at in one or two matches this season and clearly underlined in this impressive 46-16 tanning of London Skolars at Whitebank.

Rarely has there been a more clear-cut candidate for man of the match as two-try right winger Mo Agoro, who was devastating in defence, exciting in attack and denied a well-deserved hat-trick on a marginal forward-pass decision.

David Cookson, his centre, scored from close range on Danny Langtree's pass; had another touchdown disallowed; and then inexplicably dropped the ball when he got over the line a third time after a break from half way.

On the other flank Jon Ford raced threequarters of the length of the field to record his statutory interception try — a carbon copy of the one he scored at Gloucester in the previous game.

And outside Ford, Oldham had a left winger in Dale Bloomfield, who never flinched when taking a physical pounding and got his reward in the last minute when he capitalised on Kenny Hughes's initiative to race clear from inside his own half and score by the posts.

In recording his 10th try of the season Bloomfield is right up there with the best in the division, he and seven-try Agoro having several reasons for laying claim to being the best pair of wingers in Kingstone Championship One.

It was thanks only to Agoro's agility, balance and handling ability that he opened Oldham's account by leaping high into the air to take Steve Roper's perfectly-weighted kick to the corner — a try which extended his scoring sequence to five games in a row.

But even that had nothing on his second try close to half-time. With each side down to 11 men — more of that later — there was space aplenty out wide and Oldham made good use of it by putting the ball through hands to the right wing.

All-action George Tyson, a workaholic if ever there was one, took time off from defending to pop up in the right-centre channel.

He put Agoro up the touchline and the former Leeds Rhinos pup pulled clear of Jamie O'Callaghan's challenge, swung inside, ran over full-back Iliess Macani and finished off under the posts.

Coaches are not generally enamoured by interceptions which, by their very nature, can leave defensive gaps if they go wrong.

In scoring that type of try in each of his last two appearances, however, Ford has shown himself to be a natural 'sniffer', who reads the situation perfectly and times his run to perfection.

Those five tries by the backs were augmented by others from Josh Crowley, who scored two, and Nathan Mason, plus seven goals from nine shots by loan-player Roper.

Naylor, a big believer in rotation, had considered changes to the side which triumphed at Gloucester, but in the end he stuck with the same 17. It meant Roper and Brett Robinson were paired again at half-back to the exclusion of club captain Lewis Palfrey.

London were no southern softies. With four players on dual-reg from the Broncos, they were a tough and uncompromising outfit. Referee David Sharpe struggled to keep the lid on a physical game that simmered from start to finish and often threatened to boil over.

In the end it did — twice.

The first came in the 28th minute. Langtree didn't like Tely Pelo's tackle and in the flare-up which followed, referee and touch judges identified Oldham's Nathan Mason and London's Martyn Smith as having been involved. All four were sin-binned — Langtree, Pelo, Smith and Mason.

Ten minutes from the end it happened again. Danny Whitmore was floored by a stray elbow and carried on after treatment, but in the next play he and London's Courtney Davies were shown yellow after another altercation that threatened to escalate.

It was despite the hassle that Oldham did enough with the ball to win comfortably, and that was due in no small measure to the way the forwards stood up to the huge London pack.