We must defend our corner, insists Naylor
Date published: 02 June 2014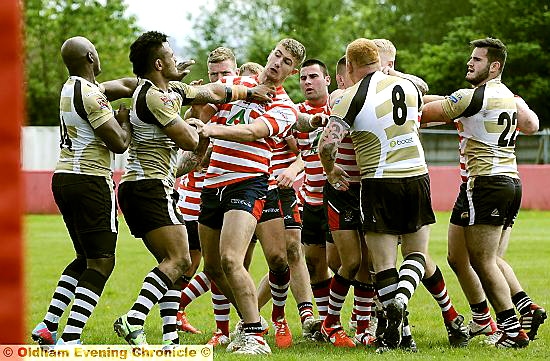 FLARE-UP: Oldham's Nathan Mason clashes with a London Skolars player in yesterday's Championship One tussle at Whitebank.
SCOTT Naylor would never encourage or condone foul play.

But nor would he expect his players to lie down and hoist the white flag if they were taking a physical pounding.

Commenting after a Whitebank rough-house in which six players — three from each side — were sin-binned in two separate incidents, the Oldham boss backed his players for defending their corner.

Oldham's Danny Langtree and Nathan Mason were shown yellow cards after a 28th-minute bust-up in which London's Tely Pelo and Martyn Smith were also sent to the sin bin.

Ten minutes from the end, after a similar flare-up, Oldham's Danny Whitmore and London's Courtney Davies were also placed in the 'cooler' after getting yellow cards.

Significantly, play resumed with a penalty to Oldham in each case.

"There was a lot of niggle in the game," said Naylor. "I don't mind it if my players feel it is necessary to stand up for themselves. "I don't expect them to keep copping it without facing up. I was pleased they stood up to London physically."

Oldham won 46-16 to make it four wins in a row and to extend their unbeaten record at Whitebank this season to five outings.