Quartet in team of the month honour
Date published: 17 July 2014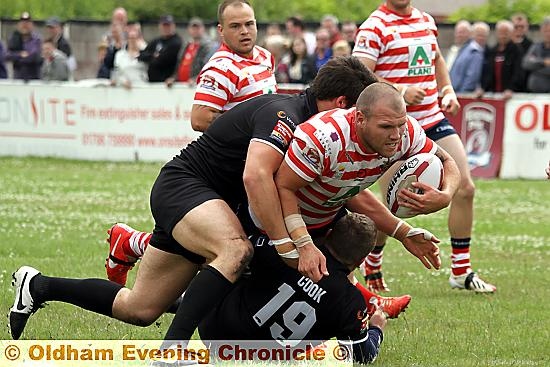 Josh Crowley
TAKE a bow Phil Joy, Danny Langtree, Josh Crowley and Mo Agoro.

Oldham RL, in second, head to leaders York for Sunday's top-of-the-table clash, buoyed by this quality quartet's selection in the latest Championship One team of the month, named by trade magazine 'Rugby League World'.

"Recognition like this shows that consistently sound performances don't go unnoticed," said Roughyeds boss Scott Naylor.

"Accolades aren't handed out as give-aways; they have to be earned."

Strong-finishing right-winger Agoro has scored in each of Oldham's last ten games, amassing 14 tries along the way.

Joy, at prop, and second-row pair Crowley and Langtree, have played outstandingly in the Roughyeds' run of eight wins in their last nine outings.

To have three forwards from one club in a pack of six speaks volumes for the quality of the men at Whitebank who lead from the front.

Outside the pack, and surprisingly perhaps, there is no room for Oldham's left winger Dale Bloomfield, who heads the divisional try list with 17 - two more than York hooker Jack Lee.

Lee is one of five York players named as the top two sides in the division are represented in nine of the 13 places ahead of their big match at the Huntington Stadium (3pm) on Sunday.

Among the other four is Oldham-born Phil Cowburn, the Gloucester centre who was brought up as a Roughyeds fan.

When the teams met at Whitebank last Sunday, Cowburn's father George wore Gloucester colours on top of his Oldham replica jersey.

Team of the month: Haynes (York); Agoro (OLDHAM), Maun (Hunslet), Cowburn (Gloucester), Saltonstall (York); Smith (York), Coleman (Hemel); Brennan (York), Cook (Gloucester), Joy (OLDHAM), Langtree (OLDHAM), Crowley (OLDHAM), Pickets (York).
To read the full version of this story see the Chronicle's E-chron digital edition or buy the newspaper.