'Totally unacceptable'
Date published: 21 July 2014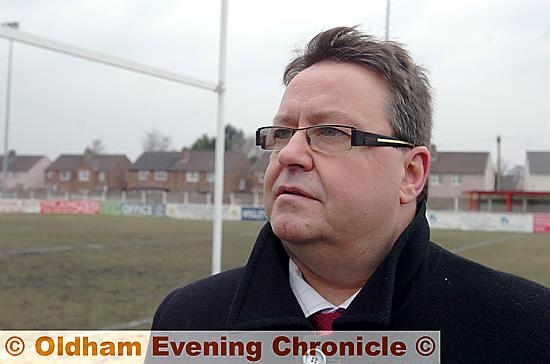 Despairing... Oldham Rugby League chairman Chris Hamilton.
OLDHAM Rugby's awful performance in a 54-12 drumming at York caused club chairman Chris Hamilton to ask himself: 'Is it worth it?'

It was also one of the few times in his 17 years at the helm that he went into the dressing room after a game.

Grim-faced, he waited in the tunnel at the end of the game while the players filed by and then accompanied coach Scott Naylor into the visitors' dressing room.

Oldham conceded nine tries as York chalked up the biggest total to be conceded by the Roughyeds in league-match rugby under Naylor's command, stretching back to March, 2013.

And this was in a first v second confrontation at the top of Championship One, which meant a great deal to the club and its supporters.

Naylor's men are still in second place, but they are now six points behind the leaders, albeit with a game in hand.

Hunslet, in third, are one point behind Oldham and seven points behind York, but with one game in hand on Oldham and two games in hand on York.

Hamilton (pictured) said: "The dressing room is the domain of coaches and players — and rightly so — but such was the extent of the disappointment surrounding this performance that I felt it appropriate for me to go in there.

"Things were said by Scott (head coach Naylor), by 'Spanner' (assistant coach Lee Spencer) and by me, but they will remain private.

"However, that performance in what was a big game for the club and the fans was totally unacceptable.

"There needs to be a lot of self-examination by the people who were out there, followed by a lot of toughening up.

"We badly let down ourselves and our supporters.

"On a personal note I asked myself, 'Is it worth it? Is it worth the time, effort, hassle and stress, plus my total commitment to the club?

"I came up with the answer, 'No, it isn't — not right now anyway.

"I know that this performance is not a genuine reflection of us as a club or of the players as a team, but it's just not good enough, nevertheless, and things need to improve immediately."

Oldham face another tough game this Sunday when they entertain Hunslet at Whitebank, kick off 3pm.
To read the full version of this story see the Chronicle's E-chron digital edition or buy the newspaper.