Whitebank facelift plans
Date published: 14 February 2012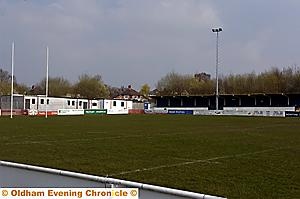 WHITEBANK STADIUM: announcement should be made soon, say Oldham RL.
OLDHAM RL Club want to reveal the specifics of their ambitious plans for Whitebank "sooner rather than later" but do not want to make bold statements until all the boxes are ticked behind the scenes.

Roughyeds are in the middle of lengthy discussions with architects and quantity surveyors with a view to making significant improvements to the ground.

The eagerly-anticipated start of the Co-operative Championship One season will not prevent work being carried out, as the jobs on the 'to do' list can be carried out at any point.

And despite the current lack of any tangible facelift at Whitebank, Oldham have stressed their focus remains on taking the necessary steps to ensure a bright future at the club.

Chairman Chris Hamilton said: "There are exciting opportunities here although I cannot get into specifics at the moment, because it is important to complete consultancy with the experts before making premature announcements.

"I am meeting with architects and quantity surveyors again this week, and we must be guided by them.

"We want to get to a certain stage down the road before coming out and saying 'this is exactly what we are going to do and when we are going to do it'.

"However, I would like to think it is going to be sooner rather than later.

"Crucially, we don't want supporters coming down to Whitebank, taking one look around the place and thinking it is the start of another season and nothing has been done.

"There is a lot of work taking place in the background.

"When the time is right we will let everyone know."