A star is not just for Christmas...
Date published: 23 December 2016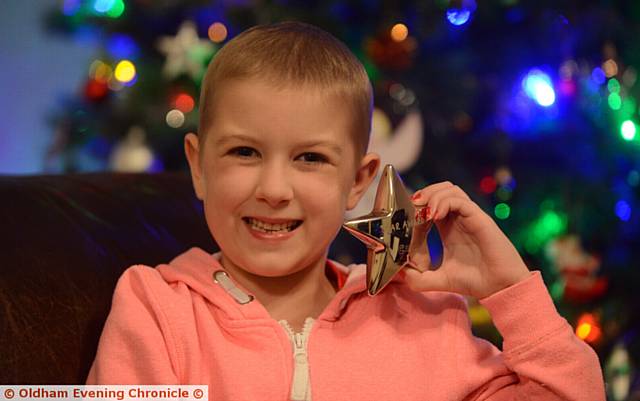 LITTLE smiler . . . six year old Esme Fryer with her Star award
A BRAVE six-year-old has received a special award for her courage in the face of cancer.

Esme Rose Fryer was diagnosed with acute lymphoblastic leukaemia, a cancer of the white blood cells, in April after five weeks of feeling unwell.

The St Mary's Primary School pupil has been praised for her "strength and determination" as she undergoes chemotherapy during her schooling.

She was described as a "true star" by Cancer Research UK Kids & Teens who, in partnership with TK Maxx, honoured her with a Star Award.

Younger sister Willow (4) was also handed a certificate to acknowledge the role she plays in helping her big sister.

Proud mum Anna (37) said: "As soon as I heard about the awards I put Esme forward.

"She has blown everyone away with her strength and determination.

"We know there is a long way to go but we are so very proud of her and the way she is coping - she is one tough cookie."

Esme has been having chemotherapy treatment during her school lunch breaks and returning to school for lessons in the afternoons.

She is seven weeks into the maintenance phase of her treatment which involves oral chemotherapy taken at home each day, a clinic visit with a consultant every two weeks and monthly chemotherapy.

Doctors told parents Anna and Rob (36) that their daughter's cancer had been caught at an early stage.

Anna and Rob had noticed Esme was more tired than usual and said it was unusual that she did not want to go to her dance class but put it down to a viral infection.

When two courses of antibiotics failed to bring about improvement, blood tests were taken at Royal Manchester Children's Hospital which revealed she had cancer.

The keen dancer, who enjoys going to Rainbows and listening to her favourite band Little Mix, began chemotherapy at the end of April at the Royal Manchester Children's Hospital.

Esme was presented with her Star Award for the bravery she has shown throughout her treatment at her school assembly on Friday December 9.

Anna said: "Her diagnosis was a massive shock to all the family but Esme, being Esme, was so brave and took everything in her stride with a smile on her face.

"Her school has been so supportive and it's really helped Esme to be able to see her friends and carry on with her school work as normal."

Esme is set to finish her treatment in June 2018.

She was given a £50 TK Maxx gift card and a certificate signed by celebrities who back the Star Award, including Olympic medallist Greg Rutherford and professional dancers Kevin and Karen Clifton.

While more youngsters are surviving cancer than ever before, around 25 children still die from the disease every year in the North West.

Every child nominated for the award receives the accolade and there is no judging panel because every child is seen as being "extra special."

Alison Barbuti, Cancer Research UK Kids & Teens spokeswoman for the North West, said: "Esme is a true star who richly deserves this accolade.

"Cancer has a devastating impact on children, forcing them to show an incredible bravery beyond their years.

"Treatment can last for months, or even years, meaning long stays in hospital away from siblings and friends.

"It is a privilege to be able to recognise the courage of youngsters like Esme.

"We hope to acknowledge the bravery of many more children and young people across the North West and are encouraging family and friends to get nominating now."

To nominate a child or donate visit cruk.org/kidsandteens.