Kremner closing in on ring return
Date published: 29 December 2016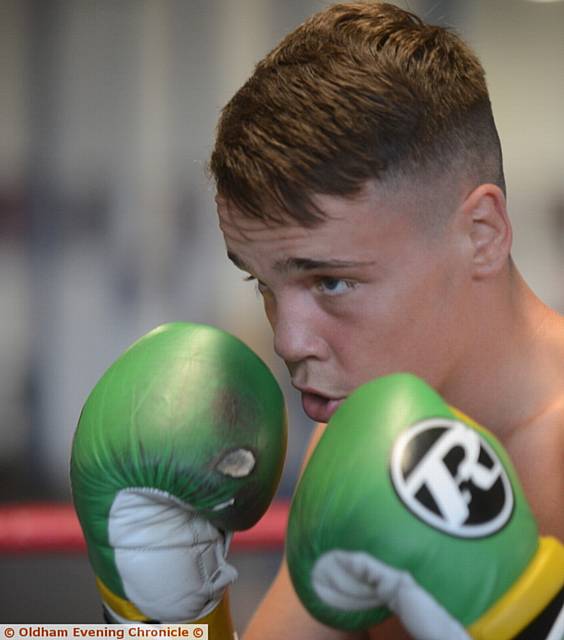 READY FOR A TEAR-UP: Andy Kremner
UNBEATEN welterweight prospect Andy Kremner is desperate to get back to competitive boxing action after missing the whole of 2016 to a troublesome shoulder injury.

Delph-based Kremner had been making good progress in the professional ranks and by the end of 2015 he boasted a perfect record of six wins from six bouts.

He convincingly out-pointed Danny Little at the Victoria Warehouse in Trafford Park on October 25, 2015, but that was his last fight.

Kremner told the Chronicle: "I've had a real nightmare with my shoulder this year.

STRAINS

"I suffered a number of different strains and pulls, and then to top all that, I ended up dislocating it.

"I had to go into hospital for keyhole surgery, and I'm told the operation was successful.

"It seems I'd torn a muscle from my shoulder down to my bicep, and that was the main problem.

"I'm more or less back to fitness now, though. I'm back in light training (with John Murray at his 'Murray Machines' gym in Stockport), I'm jogging and I've already done a bit of bag work.

"This has been the second week back at the gym and I feel good so far."

Kremner - nicknamed 'Krem de la Krem' - can't wait to take his frustrations out on an opponent in the ring as soon as possible.

He is still managed by top north-west-based promoter Steve Wood, and he has promised Kremner fights as soon as he is 100-per-cent ready.

"I've spoken to Steve and he knows I'm back in training," revealed Kremner. "I'm hoping to be back in the ring in the Spring, and I'll take on whoever comes.

PAY-DAYS

"I need a few pay-days, and boxing is a short career as everyone knows so I won't be ducking anybody.

"Don't forget I'm 24 now, so I need to get my career back on track as soon as possible.

"It's not going to be long before I'm properly ready for a few tear-ups and a few ding-dongs."