Defenders save day for Town
Date published: 06 January 2017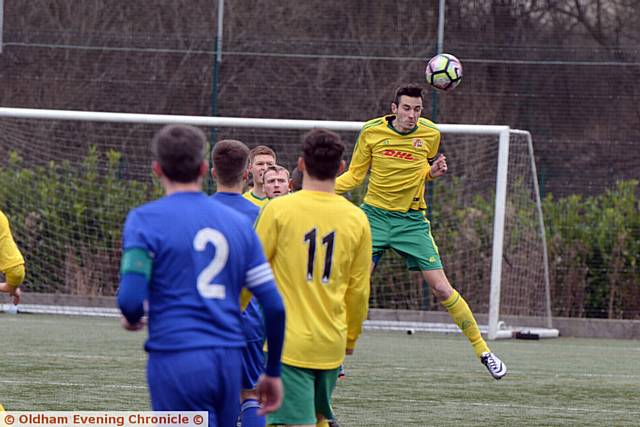 HEADS I WIN... Royton Town's Andrew Staffordgets above his East Manchester opponent in the Premier Division clash at Oldham Academy North.
Royton Town 2, East Manchester 2

GRANT Marshall's towering header provided the platform for a spirited comeback as Royton Town rescued a point in a pulsating match in the Premier Division of the Manchester League at the Oldham Academy North.

A point for Town was welcome enough, but it was a case of two points lost according to joint manager Carl Taylor.

Solely in charge due to Ben Greenidge's long-booked family engagement at a pantomime, Taylor said: "It was a Christmas hangover and we weren't at the races.

"It was a great comeback from two-nil down but to draw at home is definitely two points lost for us.

"We wanted to have three points in the kitty going into the new year especially as we don't have a game next week.

'CHANGED'
"We changed things up a bit early in the second half to give Michael Moss some support up front and I'll take the positives from the game."

Up against a lively, committed and talented East Manchester side who also have their sights on the title, Town began the match in uncharacteristic fashion, with passes regularly going astray and little in the way of an attacking threat with Moss the lone striker.

East were providing all the penalty area action, with Town grateful to goalkeeper Lee Mullen on two occasions before the visitors deservedly took the lead after 31 minutes.

And Greenidge could well have seen a classic pantomime sketch here as Brad Byrne struck home a clever free-kick from 18 yards with the Town defence, including Mullen, as still as statues as the ball sailed high into the net.

It was an extremely well-worked goal by East, but the movement off the ball of Sam Jones to the left of the Town defence as Byrne shaped up to strike the ball distracted the home side - not so much a case of he's behind you, rather he's to the left of you and Town fell for it.

Jones made it 2-0 to East shortly after the restart, capitalising on some Kamikaze Town defending to drill the ball home from 16 yards.

It was then time for Town to reassess what looked like a lost cause, with Taylor sending Carl Caffrey and Wayne Dean onto the pitch from the bench and the comeback was on.

First, right-back Marshall rose at the far post to plant a firm header from Andy Stafford's nicely-flighted delivery, before fellow defender Jordan Schofield netted in similar fashion, again from Stafford's well-executed cross.

ROYTON TOWN: Mullen, Marshall, Rogers, Schofield, Wilkinson, Stafford, Dempsey, Gilmartin, Schumann, Moss, Lamb. Subs: Caffrey, Dean, Melvin.

STAR MAN: Grant Marshall (Royton Town) - First-rate performance both in defence and attack.