Oldham have the edge over old foes
Date published: 11 January 2017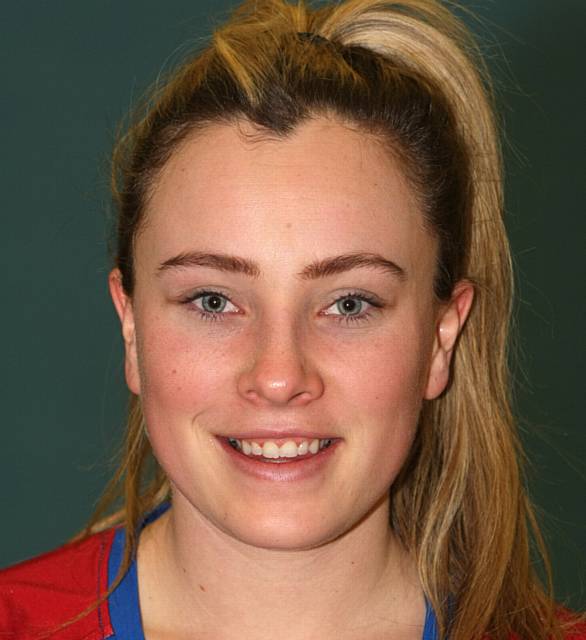 MARIA McANDREW...star performer
OLDHAM Netball Club claimed their first win of 2017 with a 53-43 defeat of Leeds Athletic, their arch-rivals from across the Pennines.

In what is always a keenly contested fixture, it was Oldham who started the brighter in the Premier League clash with some fast movement by Maria McAndrew and Amelia Hall supplying shooters Krista Enziano and Kathryn Turner.

The latter pair scored with ease as they once again showed their almost telepathic understanding, to which the Leeds defence had no answer.

At the opposite end, the hosts' defence stemmed the flow of ball though to the Leeds shooters with some excellent pressure from Susie Armstrong, Emma Dovey and Abby Tyrell at wing defence.

The quarter ended 19-9 to Oldham.

Leeds moved their experienced defender Lauren Potter from goal keeper to goal defence in an attempt to stop Oldham's momentum, but the home team continued to apply pressure and had built up a 34-21 lead at half-time.

Oldham's play through the court slowed in the third quarter and they found it difficult to deal with the physicality of the Leeds defence.

COMEBACK

Leading 44-31, Turner returned to goal attack for the final quarter after a break with Lucy Stevenson replacing Enziano at goal shooter, Dovey moved to wing defence in a further attempt to nullify the Leeds attack and Ebbie Danson-Chappell took the wing attack position, giving Amelia Hall a well-earned rest.

Although Oldham lost their way a little, Danson-Chappell had a fine Premier League debut and was busy in centre court.

But it was Leeds who could sense a comeback and quickly switched the ball to their shooters, who had now found their range.

At one point, the White Rose club notched six consecutive goals as uncharacteristic mistakes from the home team saw Leeds win the quarter 12-9.

Although the outcome was never really in doubt, Oldham made it hard for themselves and were happy to take the five points to start the new year.

Enziano boasted shooting stats of 30/32 (94 per cent), while player-of-the-match McAndrew displayed great energy and creativity in mid-court and put in another solid performance.

Oldham coach Debbie Hallas said: "We fired out of the blocks. We wanted to get out in front early, which is what I asked for, especially after the Christmas break, and put Leeds on the back foot.

"This allowed the whole squad valuable court time.

"Maria McAndrew was outstanding. Her quick decision-making is amazing to watch. Krista Enziano and Kathryn Turner also put in great performances in the shooting circle."

Oldham starting seven: GK Armstrong, GD Dovey, WD Tyrrell, C McAndrew, WA Hall, GA Turner, GS Enziano Subs: Almond, Stevenson, Danson-Chappell.