Lime Lane side miss big chance
Date published: 19 June 2017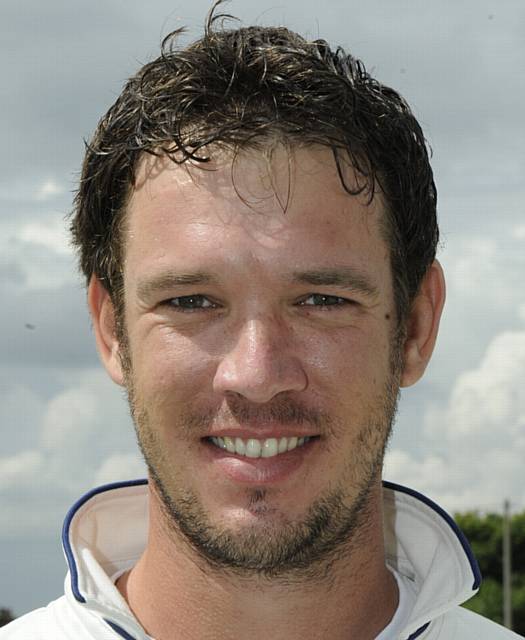 Gerrie Snyman
HOLLINWOOD were left kicking themselves after throwing away a winning position against high-flying Middleton in the Pennine Cricket League Championship on Saturday.

The leaders, without injured professional Chris Williams, were 24 for four, before rallying to reach 165.

No.5 Zain Tahir struck a crucial 55, while extras contributed 34 runs, of which 26 were wides.

Fourth-bottom Hollinwood were 127 for three and apparently coasting to a shock victory when Jatinder Singh was dismissed by stand-in pro Ernest Kemm for 55.

Wickets then tumbled, with the Lime Lane side eventually succumbing to 141 all out.

Shaw, who started the day in second place, were indebted to captain Steve Whiston's 80 as they were restricted to 143 by Werneth at Holebottom Clough - but it wasn't enough to overcome an improving Coppice side.

Andrew Walker claimed excellent figures of five wickets for 12 runs.

Werneth were made to work hard for their runs, losing seven wickets before securing victory. Two of the wickets fell to Mel Whittle.

Gerrie Snyman (pictured) was at his belligerent best as Moorside beat Micklehurst by 208 runs at Turf Pit Lane.

The paid man smashed 172 not out, which included 14 fours and nine sixes, out of 358 for five. Imran Khan (58) and Danny Anchor (52) weighed in with half-centuries.

COMFORTABLE

Royton defeated the side two places above them, Milnrow, by a comfortable 56-run margin at The Paddock.

Pro Chirag Khurana and captain James Maurice-Scott, with 79 and 57 respectively, lifted the home side to 213.

Mohammed Saeed Anwar scored 78 in reply, but Matthew Smith's four for 38 and Khurana's three late wickets saw Milnrow's innings falter.

Uppermill paid man Ajaz Tasawwar and Jack Shaw, bowlers four and five, were the scourge of the Friarmere batsmen at Leefields.

Tasawwar took four for 53 and offspinner Shaw six for 44 as the visitors were dismissed for 186, chasing 219 for victory. Friarmere were 121 for two.

Scores -

Middleton 165 (Z Tahir 55, K Patel 3-45), Hollinwood 141 (J Singh 55); Shaw 143 (S Whiston 80, A Walker 5-12), Werneth 145-7 (M Taylor 37); Moorside 358-5 (G Snyman 172 n.o, I Khan 58, D Anchor 52), Micklehurst 150 (T Wood 46); Royton 213 (C Khurana 79, J Maurice-Scott 57, C Lloyd-Jones 5-69), Milnrow 157 (Saeed Anwar 78, M Smith 4-38); Uppermill 218 (P Thompson 49), Friarmere 186 (F Wazir 58, S Mahmood 41, J Shaw 6-44, A Tasawwar 4-53); Oldham v Ashton - result not received.