Top dogs enjoy walk in the park
Date published: 14 December 2012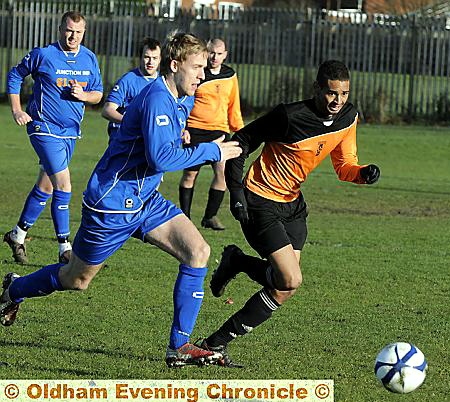 Photo: PICTURE: CHRIS SUNDERLAND.
STAR OF THE SHOW: Dominic Hallam (right), scored a hat-trick for Dog and Duck.
Dog and Duck 6, Junction Inn 1

DOG and Duck made it 12 wins out of 12 to cement their position at the top of Midas Plumbing Oldham Sunday League Division Three.

This latest success was full of style and no mean ability as they registered a comfortable victory over lowly Junction at Clayton playing fields.

Several players stood out for Dog, but wide midfield man Dominic Hallam was head and shoulders above everyone else with a performance full of grace, neat touches and supreme awareness — and a hat-trick.

Hallam, who plays for AFC Oldham 2005 on Saturdays in the Lancashire and Cheshire League, gave Dog the lead inside five minutes with what was arguably the best goal of the game.

Manager Gary Houghton said: "Dominic is class and he is one of many excellent players we have in the team. We are too good for this division."

Such things may well come into the minds of the league's management committee when promotion are discussed at the end of the season.