House party!
Date published: 21 December 2012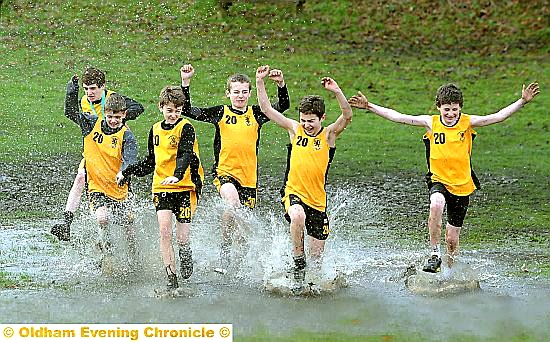 WATER WONDERLAND: Crompton House Year Eights celebrate winning their section bytaking to the water — in a large puddle!
CROSS COUNTRY:

CROMPTON House boys followed in the footsteps of their female schoolmates by taking top spot in the Oldham Schools' Cross-Country Championships.

Triumphs in the Year Seven, Year Eight and Years 10 and 11 categories — as well as a second-place finish in Year Nine, bagged the school overall victory.

Closest challengers were runners-up Saddleworth who led the way in Year Nine, and Blue Coat.

Pupils from Crompton House won all four individual races on the day.

Marcus Dey was successful in the Year Sevens, Phillip Whitham in Year Eights, Matthew Gibson Year Nines and Christopher Brown in Years 10 and 11.