Podium is target for Euro stars
Date published: 19 January 2016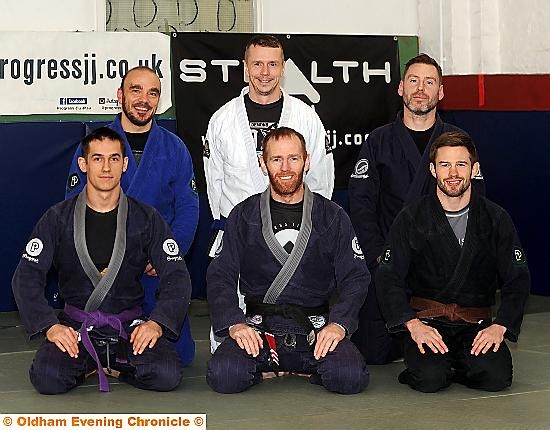 HEADING FOR PORTUGAL . . . Stealth Brazilian Jiu-Jitsu Club members, from left to right, back: Roberto Mura, Peter Wilson, Phil Russell. Front: Nemil Malczewski, Steve Campbell, Jake Corrigan.
A CLUTCH of members from Stealth Brazilian Jiu-Jitsu Club are heading to Portugal with their eyes firmly fixed on medal glory.

The group is taking part in the five-day European Championships in Lisbon, which gets under way tomorrow. Split into adults (18-30) and masters (30 and over) divisions at different weight and belt categories, they will face some of the toughest competition in the sport.

The Euros attracts up to 1,500 entrants and the standard is high, but the Stealth club is used to podium success. At the 2015 renewal, David Minto and Richard Thompson both claimed silver, in the brown belt heavyweight class and purple belt middleweight section respectively. There was also a bronze for purple belt heavyweight Ken O'Shaughnessy.

O'Shaughnessy is unable to attend this year but, speaking on behalf of the Chadderton-based club, he said: "The members are buzzing. Though the competition is bound to be hard, it's a great experience."



Brazilian Jiu-Jitsu is a combination of martial art, combat sport and self-defence system which concentrates on grappling and especially ground fighting.

It promotes the concept that a smaller, weaker person can successfully defend themselves against a bigger, stronger assailant by using proper technique, leverage and taking the fight to the ground, before applying joint-locks and chokeholds to defeat the opponent.