Darts latest
Date published: 19 August 2008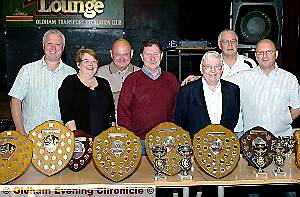 WINNERS in the Oldham Independent Log End League are pictured, left to right: Colin Howles (Black Diamond), Mary Bryson (Oldham Passenger Transport), Eric Albiston (Royal Oak), Alan Brown (Royal Oak), Peter Hunsley (chairman and secretary), Mick Royales (Druids Arms), Ray Wiseley (Royal Oak). Local sport
OLDHAM women lost 4-3 at home to Prestwich in the latest round of the Greater Manchester Summer League.

Jean Hickey claimed her match 2-1, Shereen Scholes triumphed 2-0 and the duo teamed up to win their pairs clash. Debbie Dunkerley picked up a 180 in defeat.

The next game is away to Halliwell on Sunday, August 24.