Coppice Primary Academy and Oldham Rotary Club plant 10,000 crocus bulbs
Date published: 19 October 2017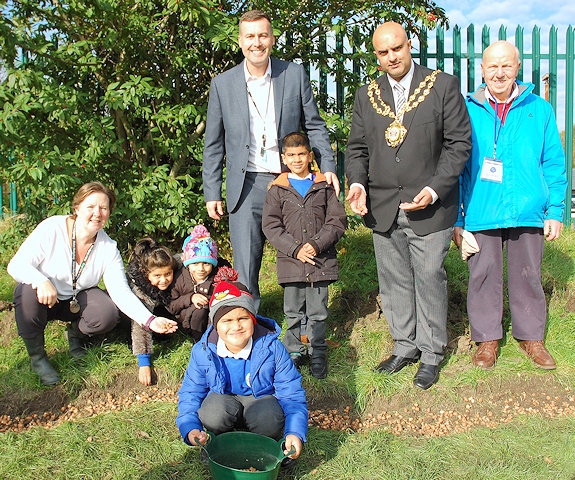 Mrs Nuttall, Mr Taylor, Mayor of Oldham Sadab Quimer, Rotarian Ray Coverley and children from Coppice Primary Academy
Children from Coppice Primary Academy helped to plant 10,000 purple crocus bulbs around the school grounds to help promote Purple4Polio, to raise awareness of how important it is to end polio now and forever.

They were assisted by the Mayor of Oldham, Councillor Sadab Quimer, along with Oldham Rotary Club Past Presidents Derek Berryman and Ray Coverley.

The purple crocus was chosen as the purple colour matched the dye painted on the fingers of children who have been immunised.

The initiative is designed to educate youngsters about the devastating disease of polio and how Rotary is working to eradicate it from the world.

Rotary clubs all over Great Britain and Ireland are inviting schools and youth groups to 'Grow Your Own Crocus'.

It is likely that the last new case will be diagnosed this year paving the way for the world to be certified Poli-free by 2020.

Polio was wiped out in the UK in 1980s and there are more than 100,000 survivors.

Globally the polio virus still exists in Afghanistan, Nigeria and Pakistan, with 10 reported cases this year.

Since Rotary and its partners launched the Global Polio Eradication Initiative nearly 30 years ago, the incidence of polio has plummeted by more than 99.9%, from about 350,000 cases a year to just 37 cases in 2016. To sustain this progress, and protect all children from polio, Rotary has committed to raising US$50 million per year over the next three years in support of global polio eradication efforts.