Plans for the new Greater Manchester Fire Service Museum are blazing ahead
Date published: 11 January 2018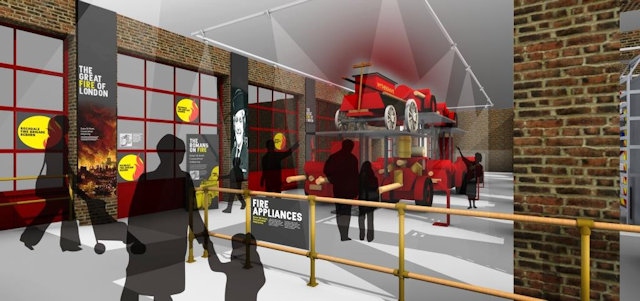 Greater Manchester Fire Station Museum
Proposals to transform the Greater Manchester Fire Station Museum will be showcased to the public for the first time on Friday (12 January) and Saturday.

Under the plans, the ground floor of the former fire station in Maclure Road, Rochdale will be renovated to create a dedicated exhibition space for the museum's many exhibits.

The move would more than triple the museum's current floorspace from 300 to 1,000 square metres and enable its many exhibits, including a fire station dating back to the 1700s, to be showcased.
A new café and education centre would also be added if the bid is successful, and some paid posts would be created to help manage the museum, which is currently staffed entirely by volunteers.

If agreed, the proposals will also enable the museum to open four days a week, rather than one, enabling visitor numbers to triple from just under 5,000 to 15,000.

The museum, which has been open since 1983, hosts 60 school visits year, which youngsters from far and wide coming to see its exhibits.

Residents can meet the scheme's architects, OMI, the designers, Leach Design Studio and the museum.

The consultation events take place Friday 12 January from 9am until 4pm, at the Fire Service Museum and Saturday 13 January, at the Rochdale Exchange Shopping Centre from 10am until 2pm.
The Heritage Lottery Fund has awarded £108,000 for the plans to be developed in more detail.
A decision on the bid is expected in the summer.

The museum opens every Friday and the first Sunday of each month.