Musical needs a bit more magic
Date published: 08 December 2016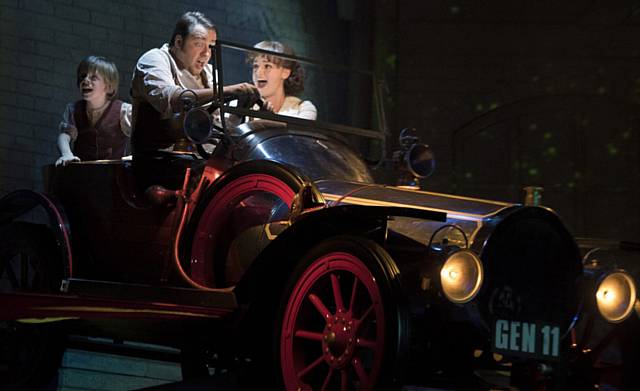 Photo: Alastair Muir
ON THE MOVE . . . Jeremy Potts (Henry Kent), dad Caractacus (Jason Manford) and Truly Scrumptious (Charlotte Wakefield) take a spin in Chitty.
CHITTY CHITTY BANG BANG

Lowry, Salford, to January 15

IT WAS 10 years ago that this stage musical first appeared in Manchester, a knockout production that four years earlier had cost £6 million to stage.

It suffered, as this version of the Ian Fleming children's story does, from perhaps unnecessarily pantomimic characters and much larger than life songs and dance routines. What made up for that was stunning sets, a magnificent flying car and great gloss and pace.

Here, not quite so much.

OK, the show is still spectacular, but in a more intimate (and cheaper) way. This production has been developed not off the bat as a multi-million pound event but on a smaller, family scale for the holidays, having originated at West Yorkshire Playhouse a year ago.

The car is still there, of course - a little smaller than the one from the previous production, but beautifully made, joined here by Truly's unreliable motorbike and the non-flying, non-sailing runabout of the Baron.

A sense of the spectacular comes from the wide use of projection on the curved walls of Potts' windmill - which takes up the width of the stage, whether as a backdrop to the flying car or a creepy silhouette of the Childcatcher.

But while the appearance of terrific entertainment is pretty much preserved and the press night audience loved it, the show could be a lot sharper and carry more pace than it currently does.

A slightly lackadaisical air hangs over things at this start of the Salford run. A few more rehearsals might not have gone amiss; the likeable Jason Manford as Potts hasn't yet quite stamped his authority on the role and Phill Jupitus, funny though he is, seems to be having fun in an entirely different show.

Meanwhile Claire Sweeney is trying very, very hard as the baroness and Jos Vantyler appears to have decided he really wants kids to go home frightened of his Childcatcher. Scott Paige and Sam Harrison are stealing the show as the Baron's spies, though no one particularly needs them to.

The show's integrity currently lies in Charlotte Wakefield as Truly, in the Potts children (Henry Kent and Darcy Snares last night), and in supporting characters such as the Toymaker (Ewen Cummins) and Potts Snr (Andy Hockley). If you have a ticket for a future show, no doubt you'll love it.