Jaguar XE R-Sport 180PS - Review
Date published: 17 December 2016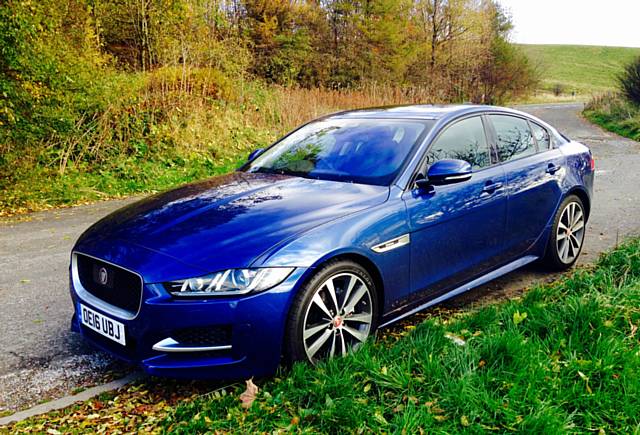 Jaguar XE R-Sport
THE Jaguar XE is doing a fine job of prising the Germans off their compact executive saloon pedestal thanks to its excellent driving dynamics and slick styling.
The BMW 3-Series may be able to match it dynamically - but styling? Hmm, I'm not so sure. The BMW 4-Series with its coupe-styling is more appealing but somehow the Jag seems to pull that trick off and still retain 4-doors.
Mercedes have the excellent C-Class of course that feels very special but so does the Jag and the Jaguar is generally recognised as the better driver's car when it comes to trapping-on a bit.
Audi have the A4 which more than matches the Jag for interior quality but it lacks the outward presence that the Jaguar XE has – the thing that makes you immediately recognise its DNA and makes you want to get in and go for a blast.
But how it stacks up against the opposition should really be a secondary issue. You buy a Jaguar because you want a Jaguar – it's still different enough from the main rivals to allow you to make a statement - but now it's also on a par when it comes to quality and ownership experience. It's no longer a Mondeo in a fancy frock.
Earlier on in the year I drove the entry-level SE model with the lower-spec 163bhp Ingenium diesel engine and I was very impressed by just how far Jaguar had come in those 6 years between the X-Type and the XE.
Now I have my hands on the mid-spec R-Sport model fitted with the higher output 180bhp Ingenium 4-pot diesel which, although not a quantum leap in power is more notable for the fact that it appears to be quieter than its lesser sibling.
The R-Sport is also meaner looking with subtle side-skirts and slightly lowered suspension. There is also a sportier front bumper and a subtle boot-spoiler.
A couple of options in way of Caesium Blue paintwork (£635) and 19in Venom5 alloy wheels (£820) also added to the looks of the XE R-Sport making it a real head-turner.
Inside the Jaguar XE it's all good with an excellent driving position that feels hunkered down thanks to that raised transmission tunnel.
The Jet Black and Blue Taurus leather went very well with the exterior colour and gives the Jag that essential premium feel inside.
The twin main binnacle, houses the traditional speedo and rev-counter while the much-improved 8in infotainment screen sits centrally with climate control buttons beneath it. It all looks quite minimalist and works very well with everything you should wish to adjust, bar climate, being available from the chunky, leather-clad, multi-function steering wheel.
The infotainment system, in particular, is very easy to find your way around with large, bright, colourful buttons making it quite easy to use on the move.
Standard spec on the XE R-Sport is generous and includes 18" Star 5 Spoke alloy wheels, Taurus Perforated Leather Sport seats (8-way manual), Etched Aluminium trim finisher, R-Sport metal treadplates.
The list of driver-assistance tech is also impressive and includes Jaguar's All Surface Progress Control for low-traction situations as well as Jaguar Drive Control which allows you to select Normal, Eco, Dynamic or Rain Ice Snow modes, each subtly changing the steering and throttle mapping.
There is also Cruise Control with Speed Limiter, an electronic parking brake, Traffic Sign Recognition and intelligent Speed Limiter, Autonomous Emergency Braking and Hill Launch Assist included.
Push the pulsating engine start/stop button and the XE comes to life with a slight shudder but once on the way things settle down and you'll find the Jaguar XE an absolute doddle and pleasure to drive in equal amounts.
The XE R-Sport is a little stiffer in the suspension but not jarringly so. You can really throw the car around on twistier roads as there is lots of feedback through both the chassis and the steering but I didn't notice any undue thumping from the 4 corners. Aluminium has been used extensively in the Jaguar XE and it shows, not just in the fuel economy figures but by the way the car handles.
It is possible to lose some traction from the back end on very wet or loose surfaces if you push the car very hard but it never feels unsafe as Jaguar's Torque Vectoring by Braking maximises control through even the tightest corners. This provides controlled independent braking on the individual inside front and rear wheels.
The electric power steering is worthy of note as it really does feel more like a hydraulic system – which is a good thing. The car feels reassuringly heavy when first pulling away and lightens up as you gain speed but that feeling of connection to the tarmac never leaves you like it can do on some other cars. The weighting is spot on and inspires confidence that the car is going to go exactly where you point it.
So, definitely a driver's car then but pretty good when it comes to the environment too. The 168bhp diesel only pushes out 99 g/km so qualifies for zero road tax. The 180bhp is just 111 g/km and manages a combined 67.4 mpg.
There are some options that I would treat as essential and they can quickly push up the price – a split/folding rear seat, for example, cost an extra £410, while the Navigation Pack is £1,125.
The Jaguar XE in R-Sport guise is definitely the sweet-spot of the range, providing the luxury feel that you expect from a Jag and the performance too. The fact that it now does it so economically and with such style almost makes looking for your next compact executive saloon a no-brainer.
VERDICT: *****
JAGUAR XE R-SPORT 180PS - AT A GLANCE:
OTR Price: £34,775
Engine: 2.0 turbo diesel
Power: 180 bhp
Transmission: 8-speed Automatic
0-62mph: 7.4 secs
Top Speed: 140 mph
Combined Economy: 67.4 mpg
CO2: 111 g/km