Ever-dressed!
Date published: 10 January 2017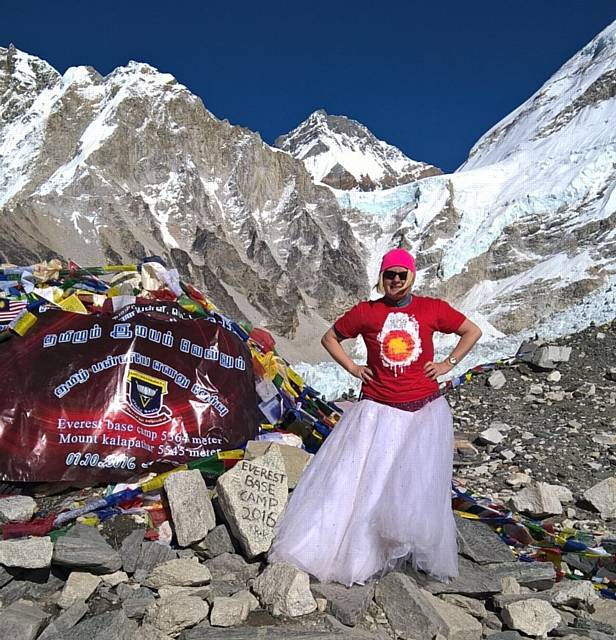 Amanda Hamer donned her jumper and wedding dress at base camp
A FAILSWORTH woman scaled the heights to fight the disease that took her mother's life.

The sky was no limit for fundraising champion Amanda Hamer who took on a 19-day trek to Mount Everest Base Camp... carrying her wedding dress!

Due to the impracticalities of trekking across Nepal actually wearing her gown, adventurous Amanda saved popping on the dress for when she reached Base Camp at a height of more than 17,500 ft.

The 50-year-old set about raising money for the UK Sepsis Trust after the loss of her mother, Sheila Prescott (78) last August.

Since then, the Mahdlo staff member has gone to extreme heights to fight the life-threatening condition which is triggered when the body injures its own tissues and organs as it responds to an infection.

Amanda previously said: "Up until last August I had never heard of sepsis and unfortunately my beautiful mum was suddenly taken away from me due to this awful condition.

"I wanted to raise awareness and inform other people of the signs."

Mahdlo's Get Outdoors Coordinator flew out to Kathmandu in November where she began her trek across Nepal's tough terrain with a team of 35.

Her journey took in Sherpa capital Namche Bazaar, weaving through valleys, forests and across glacial rivers before reaching Everest Base Camp.

Amanda, who is now back home, said: "People were really amazed and in awe of this crazy woman wearing her wedding dress at Base Camp.

"Even the flight was amazing - the pilot was like Tom Cruise in his leather jacket - but the climb was the hardest thing I have ever done.

"Three people were unable to reach camp due to altitude sickness which had a massive impact on the group. Once you've reached there all you want to do is come home but it takes five days to climb down."

Since marrying husband Howard at Chadderton Town Hall six years ago, Amanda always said her wedding dress was for more than just one special day.

She said: "I did the ice bucket challenge in it, went to a music festival in it and had a photoshoot at Failsworth Leisure Centre training in it. From now on I intend to wear it for each challenge.

"I would like to thank everyone for their kind words of support and their donations."

Her next ambitious challenge is to trek to Kilimanjaro in February next year for Mahdlo.

To sponsor Amanda visit www.justgiving.com/fundraising/Amanda-Hamer1.