Inspirational old boy opens £0.5m facilities
Date published: 11 January 2017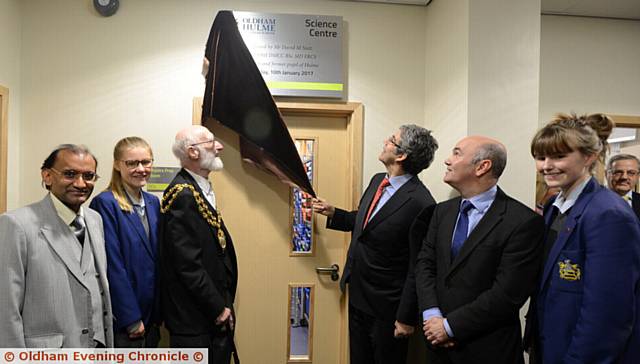 OPENING ceremony . . . Mr Nott unveils the plaque watched by, from left, Vijay Srivastava (chairman of governors), Daisy Hilton, Oldham mayor Councillor Derek Heffernan, David Nott, Craig Mairs (principal) and Mia Robinson
THE world's leading war surgeon returned to his former school to open its new £500,000 science centre.

David Nott officially unveiled the refurbished two-storey building at Hulme Grammar School which has six physics and chemistry labs as well as preparation, storage and staff rooms.

He brought some of his old school reports, which included the comments "work is presenting many problems for him", "gets puzzled easily" and "much more junior school in attitude and behaviour than others".

But the renowned general and vascular surgeon paid tribute to former teachers Ian Holt and David Hallet, saying that he would not have achieved what he has without them.

Along with his parents and other teachers, they gave him a passion which saw him go on to study at St Andrew's and Manchester universities and become a fellow of the Royal College of Surgeons.

And for more than 20 years, he has taken annual unpaid annual leave to risk his life working for aid agencies in war and natural disaster zones around the world.

He has made headlines saving the lives of a baby retrieved from the rubble of the Haiti earthquake, and of a Congolese man whose infected shoulder he amputated aided by instructions from a British colleague by text message.

Mr Nott has also raised hundreds of thousands of pounds for charitable causes, set up his own foundation to train surgeons to carry on his work in the field and has campaigned for safe corridors to allow humanitarian access to Syria. He has been awarded the OBE, the Robert Burns Humanitarian Award and a Pride of Britain Award.

"It is wonderful to have been given the honour to come back as an old school boy to open your science department," he told pupils, staff and guest at Hulme yesterday.

"I had a wonderful time at Hulme, but I did find it difficult. I was not the brightest of students.

"If it wasn't for Ian Holt and David Hallet, I wouldn't have got where I have today. They gave me passion and if you are passionate about something you will always do what you want to do and nothing will stop you."

Hulme principal Craig Mairs said Mr Nott did not like being dubbed 'the Indiana Jones of Surgery,' as he has been by some newspapers.

But he said: "The world 'hero' is used very loosely these days, but I can think of no better example."

On the new science centre, he added: "We are determined to provide the very, very best for our pupils in terms of the quality of the staff and the facilities. I was absolutely delighted when the governors approved the £500,000 project to renovate our science centre."