'It's good to come back'
Date published: 11 January 2017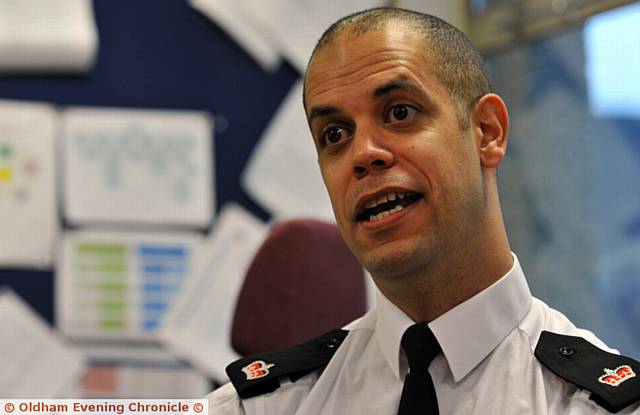 BUILDING relationships . . . Supt Danny Inglis
OLDHAM's new divisional commander will focus on working and engaging with local communities as he seeks to build relationships between police and locals.

Superintendent Danny Inglis, Oldham's new Divisional Commander, having been a part of Oldham's station from 2006-2012, returned to the borough and is looking build a relationship with the community.

Supt Inglis, who also previously worked in Greater Manchester Police's cyber crime and fraud unit, gave The Chronicle an insight into how he wanted to progress Oldham's force.

He said: "It is good to come back because I know a lot of the issues, the people, the staff and the area. I think that is more beneficial.

"I got interviewed for the role and Oldham was the one I wanted to come to.

"It's a real spread of people here. I think it is a really diverse place and you get that diversity in the people here."

Mr Inglis feels that part of increasing effectiveness requires engaging and working with communities to involve them in issues that they can help solve.

He said: "One thing I really want to do is get community involvement within issues.

"This is all about us working with communities.

"Gone are the days of just throwing cash at a problem, we need to work with communities to solve them because what we can't do is just solve these problems by just policing."

Mr Inglis said: "I would like to see more community participation and problem-solving or just to be getting involved and we can educate people on how.

"It is about working with people and helping them to see us from a different perspective and as part of their community.

"Part of policing is making sure that we better understand the challenges of the community and bring people together."

Police staff are an essential tool in reaching out to local people and Mr Inglis understands that in order for his staff to perform effectively he must keep them well motivated, well equipped and healthy both physically and mentally.

Mr Inglis said: "I am passionate about motivating the staff to feel mentally and physically well.

"You have got to see them as whole people and when you do that you can get the best out of them.

"I am looking at how the staff can have the best possible wellbeing in Oldham's police."

Behaviour

He said: "I also want to look at how we use technology to help us deliver the service we're looking to provide for the area.

"One of the things I have been looking at is ensuring that staff are equipped to use that technology as well.

"The technology doesn't work if you don't get the behaviour to work it. We need to collaborate with it.

He said: "The reaction of the staff has been really positive. We have got a lot of challenges in terms of Oldham and we have got a lot of people who are passionate about being here.

"On top of that we have had a lot of support from the community who have thanked us for our work with the snow, floods and recent fires."

Mr Inglis went on to say that criticism the police receives can be turned from a negative issue if it is used to be constructive.

He said: "I don't always see the criticism of the police as a bad thing because it means the public expect the best standard and we can work towards that.

"I would be disappointed if we did an average job and someone said that that was good.

"A lot of the reason why people go into the police is that they want to help people."

Finally Mr Inglis revealed the effective relationship between Oldham's police and other local authorities was something that really stood out to him.

"I think the relationship with the local authority really stood out for me as being really effective and I think we can really develop by bringing that effective relationship to the community."