Students win place in national food contest
Date published: 17 February 2017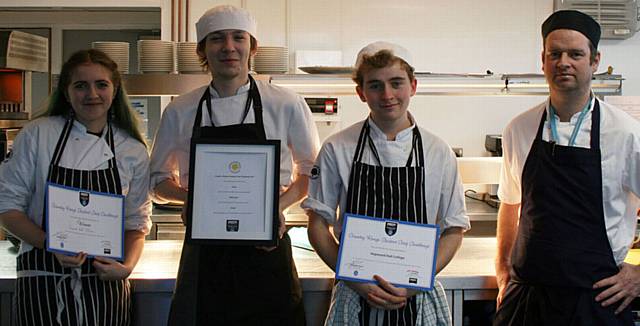 WINNERS . . . (L-R) Hopwood Hall College students Lucinda Lageard, Kyle Rosebury and Marcus Carter-Strutt with Sam Everett, Riverside Restaurant head chef
CATERING students from Oldham tasted success as they earned a place in the national finals of the Country Range Student Chef Challenge.

Hopwood Hall College students Marcus Carter-Strutt, from Springhead, and Kyle Rosebury, from Shaw, and Lucinda Lageard, from Rossendale, won the regional heat at the City of Liverpool College on Monday.

The talented trio, studying professional cookery courses, were tasked with cooking and presenting a three-course, three-cover menu themed on "Healthy Gourmet Fine Dining" in 90 minutes.

They now go on to the grand final on March at ScotHot - the biggest food, drink, hospitality and tourism trade show in Scotland.

Kyle said: "I'm quite overwhelmed with the win. Our head chef Sam has been a great mentor and being able to compete in competitions really makes you up your game, whether you realise it or not.

"I hope we can just repeat that level of performance in the grand final, that really would be huge for us."

Marcus added: "The three of us were really nervous on the day, after we were judged we were sure we'd messed up.

"We've gained some excellent real-world experience at the Riverside Restaurant, so I think that has given us a good platform to achieve things like this."

All three study at Hopwood Hall's Riverside Restaurant, an award-winning eatery in Rochdale where all the catering and hospitality staff are catering students managed by their lecturers.

Sam Everett, head chef, who was at the competition said: "They did a fabulous job. To win a regional competition is massive and everyone at the college is really proud of them.

"It's funny because after being judged they were all really downbeat believing they had messed up a few details. I told them they did well and tried their best, and then when the results were announced I learned they had really knocked it out of the park."

He added: "The win will be a great boost for their confidence. All three are a great example of the high level all our catering students operate at daily in the Riverside Restaurant and hopefully they can go on and do just as well at ScotHot."