Rubbish is left yards from recycling plant
Date published: 17 February 2017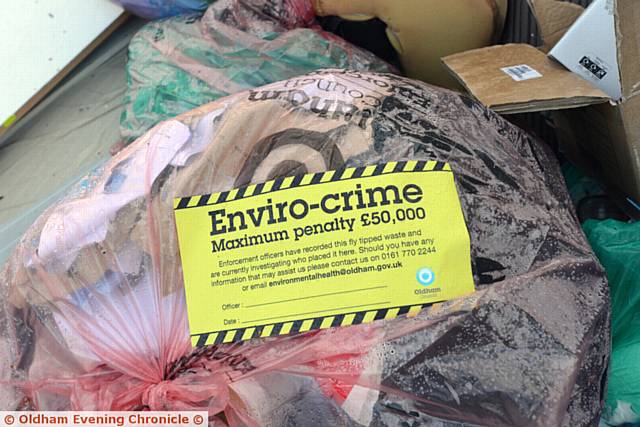 Fly tipping on the site of the former Ring and Ride on Arkwright Street, Chadderton.
LAZY and selfish flytippers dumped a mountain of rubbish, including mattresses, a fridge freezer and carpet just metres away from Oldham's recycling plant.

The huge quantity of waste has been left at land off Hargreaves Street, just 50 metres away from the Arkwright Street Household Waste and Recycling Centre.

A council spokesperson confirmed that Oldham Council have been made aware of the flytipping and have been out to bag some of the waste ready for removal.

Yellow tickets posted on the rubbish adds that the council will be investigating who has dumped the waste, with an appeal for anyone with information to come forward.

It comes just a week after Council Leader Jean Stretton used her weekly blog to hit out at those blighting the borough through flytipping following the successful prosecution of five individuals found responsible for dumping waste irresponsibly.

Councillor Stretton said: "It's not Oldham Council that dumps this waste, but it does fall to us to clean it up - and at a cost of almost £1m a year to you, the local taxpayer.

"That is £1m that could be spent providing services to residents instead of cleaning up after people who do not respect our neighbourhoods.

"It's your neighbour - be that a home or business nearby - or somebody who has come into your area that dumps the stuff."

Councillor Stretton added: "And that is why we need your help."

Residents who spot someone flytipping or dumping waste is urged to report it online at www.oldham.gov.uk/forms/form/172/en/fly-tipping_report_form or by calling 0161 770 2244.