£30m NHS jobs tonic
Date published: 17 February 2017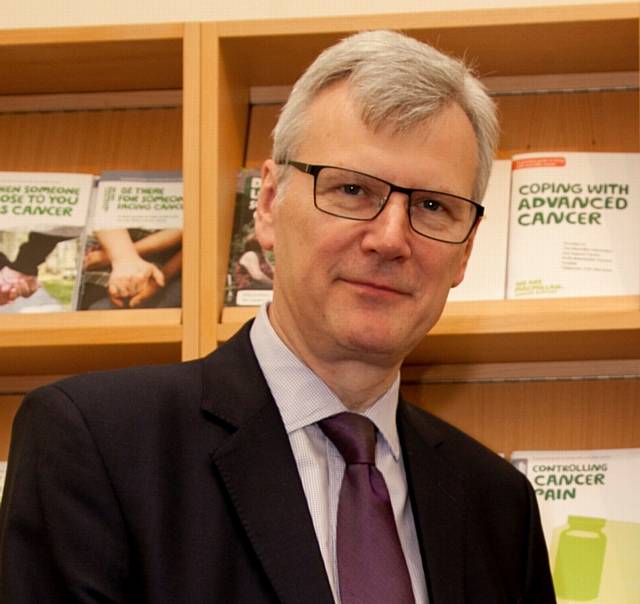 Chief executive of Pennine Acute Hospitals NHS Trust Sir David Dalton said £30million will be invested in frontline staff as part of the trust's improvement journey.
A £30MILLION boost in funding will see hundreds of new health professionals employed by The Pennine Acute Hospital's NHS Trust.

Hundreds of nurses and midwives will be recruited across the trust's four hospitals in Oldham, Bury, Rochdale and North Manchester under improvement plans. The investment comes six months after Pennine Acute was rated as "inadequate" by the Care Quality Commission and told to make "substantial improvements."

A total of £10million has been earmarked to recruit more than 300 staff for nursing and midwifery roles over the next three-year period. Funds will also go towards employing 35 more doctors and 25 more allied health professionals such as podiatrists, dietitians and physiotherapists ­- distinct from nursing, medicine, and pharmacy.

Another £10million will be invested in "essential" building works at the Royal Oldham Hospital and North Manchester General Hospital.

Chief executive of the Pennine Acute hospitals trust Sir David Dalton said: "This £30million of additional money will be invested in frontline services and will be used to support staff and help us employ more doctors, more nurses, more midwives and more clinical staff in areas where we need them. As part of our improvement work, we have listened to our nursing staff who have told us we need to increase our nursing and midwifery staffing levels on our wards to ensure staff are supported and that patients are getting the very best care they need.

"I have accepted their recommendations and so £10million has been set aside to recruit over 300 more nursing and midwifery staff over the next few years across all of our hospital sites.

"This is a significant amount of money that is part of a financial commitment to support the trust's improvement journey. This funding recognises all of the hard work, changes and improvements that have been delivered by our staff at all levels over the last few months."

A total of £2.5million will also be used to develop infrastructure at the hospitals while £1million will be spent on IT and data information systems.

New medical and clinical equipment and staff training are other areas which will also receive investment.

Mr Dalton released an open letter last August laying out an improvement plan to make the trust's hospitals and community services safe and reliable.

It was published after CQC inspectors found the trust to be providing "inadequate" services overall with several departments requiring improvement.

Concerns were raised about medical staffing at the Royal Oldham Hospital, particularly in critical care, maternity and children and young people's services.

Pennine Acute was told to implement substantial improvements and actions in order to maintain safer and more reliable care at all of its hospitals.

Jim McMahon, MP for Oldham West and Royton, said: "It's encouraging to see the hospital and its staff being supported with this additional funding.

"I raised my concerns with the hospital's performance in Parliament last month and I am pleased to see a positive step forward being taken by those in charge.

"But let's be clear, the hard work required to turn this situation around starts here. The failings identified by the CQC were principally failings of leadership, of staff not being supported to do their jobs to the good standard that I know people in that profession strive for.

"I hope to see the funding being used to build a service that provides the quality of health care that local people deserve."

Since August around £9.2million has been spent on medical and nurse staffing in pressurised services across Pennine Acute thanks to funding from its local Clinical Commissioning Groups (CCGs).

This latest £30million investment was secured following support and agreement with the trust's four local healthcare commissioners (CCGs) in Bury, Oldham, North Manchester,

Heywood, Middleton and Rochdale, and also with NHS England, NHS Improvement and the Greater Manchester Health and Social Care Partnership.

An additional £10million of capital investment has also been secured to develop the Royal Oldham Hospital and North Manchester General Hospital sites. Both hospitals have been allocated £5million each.

Mr Dalton said: "The investment is an endorsement from our external partners of the confidence they have that our staff and our new site-based leadership teams can and will deliver the necessary changes to improve services further and in building a positive future for our staff and the local communities we serve."

To view the trust's improvement plan visit www.pat.nhs.uk.