The appliance of scientists...
Date published: 20 March 2017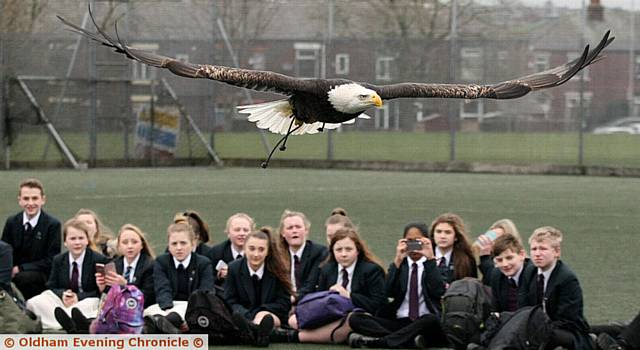 WOW factor . . . a bald eagle in flight
BREATHTAKING birds of prey swooped over Royton and Crompton School as the borough celebrated British Science Week.

Children of all ages in the borough's primaries and secondaries took part in lots of fun activities to help promote and foster a love of science.

Falconer Ben Potter visited Royton and Crompton where pupils were blown away by a flying display by a vulture, bald eagle and harris hawk.

Elsewhere, A total of 120 Year 9 teenagers from six schools carried out a range of hands-on tasks when they visited Oldham Sixth Form College's Regional Science Centre.

The sessions ­- which included dissecting a heart and making bouncy balls ­- were led by 75 science ambassadors from the college, A-level students who had been trained by their tutors.

PhD students Robert Moorecroft and Chris Jones from Manchester University also brought along specialist equipment to test the strength of materials.

Pupils from Collective Spirit Free School, Failsworth School, Hathershaw College, Newman College, Royton and Crompton School and Waterhead Academy took part.

Promote

Kathryn Parkinson, head of science at Oldham Sixth Form College, said: "There is a lot of pressure on schools in the current climate and students' experimental skills in science can sometimes suffer as a result. We have incredible science staff at the college who are highly qualified. They wanted to promote the fun side of science, through our science ambassadors, to the younger pupils.

"We achieved our aim in creating a buzz about science and we hope the pupils will now be inspired to find out more about science."