Powerlifters show the weight to go
Date published: 20 March 2017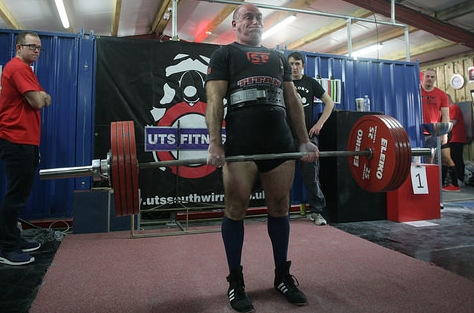 DAVID Clifford, from Lees, took two British records, lifting 83kg
A POWERLIFTER has done Oldham proud after securing two British records.

David Clifford, from Lees, found double success at the British Masters Classic Championships in Belfast.

David, who trains at the Viking Fitness Gym in Lees five times a week, was hailed the Masters 2 83kg Champion ­- in the 50 to 59 age bracket.

He said: "It was a great weekend in Belfast. The competition was a nail biting affair. I was really pleased with the 250kg lift which is more than three times my bodyweight.

"The deadlift record was a goal I set myself when I started first started competing back in November 2014, at the slender age of 49.

Fortunate

"The key to succeeding in this sport is surrounding yourself with like-minded people, having training and nutrition plans. I'm fortunate that I train with a great set of guys which is also something of a family event as I often train with my daughter, her fiancé, my son and on occasions my wife."

His daughter Shannon competed on the European stage after being crowned British champion last year.

In a powerlifting competition a lifter performs three squats, bench presses and deadlifts and the highest weight lifted in each of the three lifts is added together to give a total amount.

Mum-of-two Jane Girdlestone also came away from Belfast with a British record despite never having set foot in a gym before three years ago.

Jane, who until recently trained at Freedomstrength, in Turf Pit Lane, broke the British squat record for her age range at the competition.

Jo Whiteley, of North West Powerlifting, said: "Huge congratulations are in order for our incredible bunch of masters who stormed Belfast.

"Dave has been a stalwart of the North West Powerlifting scene for a few years now. He holds North-West records across two age classes and was in the thick of an epic battle at last year's British Masters. We're all delighted that he battled through for the win this year."

She added: "Jane has only been lifting with us for a very short time. Since her first competition in July last year she has literally gone from strength to strength and we're so proud of her becoming British Champion."

Jane, from Middleton, competed in Masters 1 ­- the 40 to 49 age bracket ­- lifting a total of 57kg.

She said: "I felt so honoured to be lifting with such amazing people."

North West Powerlifting said: "We expect both of these lifters to be selected for the World Championships in Minsk, Belarus, in June."