It's just what the doctors ordered
Date published: 21 April 2017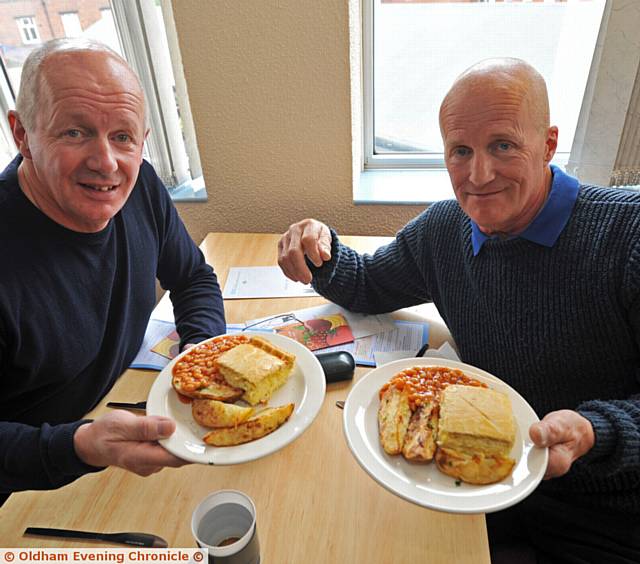 BROTHERS Stephen and John Curnow put their taste buds to the test
WHETHER it's a morning snack you're after or a hearty supper, the food served up at the Royal Oldham Hospital won't disappoint.

The Chronicle paid a visit to Café Royal to trial the menu choices available to thousands of patients, staff and visitors on a daily basis.

Hospital staff and members of the public were among those invited to taste and give feedback on the food served up across Pennine Acute Hospitals NHS Trust sites.

Royal Oldham's catering services manager Steve Lowe said: "Most people tend to choose traditional food such as pies and hot pots.

"We provide a bulk system which allows us to be flexible with portion sizes.

"There is enough food taken to each ward to cater for everyone's needs."

Around 500,000 meals are supplied at Royal Oldham every year. Mr Lowe said he only receives around six complaints every 12 months.

Mr Lowe said: "We previously had complaints about the chips not being hot enough by the time they reached the patient.

"In response we moved to potato wedges which hold their heat much better - it is pure potato."

Food is kept hot or cold inside trolleys on each of the wards. Meals are then transferred to the plate and given to the patient by Health Care Assistants.

A range of dishes were on offer during a two-hour Field to Plate tasting event on Wednesday.

Jim McDermott (64), who attended with wife Susan (66), tried the corned beef hash with potato wedges and broccoli.

He said: "The food was fantastic. I was amazed at how hospital meals have moved on."

He added: "I had my doubts about how it might taste because of what other people tell you."

Susan, who tried the cheese and onion pie with baked beans and wedges, said: "It was beautiful."

Menu options included salmon with a cheese and parsley sauce, complemented with a choice of potato wedges or mashed potato.

Some visitors tucked into cold ham sandwiches and salad, while others went straight for hot lemon pudding or ginger pudding with custard.

Stephen Curnow said: "The quality of the food is good. I don't think the public know how much planning goes into sourcing the food and preparing it.

"We came last year. These events are a good idea." Greenfield resident Steph Pelmore, who tried the ham sandwich, said: "The food was very good.

"It was all fresh and very tasty."

Her husband Barry, who tried the salmon, said: "The food was as I expected. It was not bad. It was tasty."

Annually, there are 1,479,000 meals served up by Pennine Acute, feeding 1,480 patients three times each day.

The food wastage figure for the trust overall stood at 4.4 per cent for March, below the Government's 10 per cent target.

Pennine Acute audits its food suppliers and prides itself on having full traceability from field to plate on produce such as meat, fish and vegetables.

Trust catering lead Howard Cartledge said: "We have a system of red trays that we use for people who need help with feeding or are being monitored for nutritional intake on our wards and provide a varied selection of meals to meet all dietary requirements."

He added: "We wanted to invite the general public and our members in and highlight the complexities and details of what we do to provide good quality catering services."